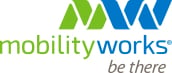 Columbus
Address
7233 Industrial Pkwy
Plain City, Ohio 43064
Hours
Mon: 8AM-5:00PM Tues: 8AM-5:00PM Wed: 8AM-5:00PM Thurs: 8AM-5:00PM Fri: 8AM-5:00PM Sat: Closed Sun: Closed
MobilityWorks, Columbus is the Area's #1 Wheelchair Van Dealer
In central Ohio, there's only one wheelchair van dealer to see: MobilityWorks, Columbus. We provide mobility solutions to aging and disabled people in the greater Columbus, OH area. We have the expertise and experience to help you or your loved one maintain maximum independence.
Unmatched Wheelchair Van Selection from MobilityWorks, Columbus
When you need an extensive wheelchair van inventory, head over to MobilityWorks, Columbus. We stock the biggest and best selection to be found in central Ohio. We carry Ford, Dodge, Honda, Chrysler, Toyota and more. Our vans, minivans, trucks, cars and other vehicles have been modified by BraunAbility and other industry-leading names in adaptive driving. Our lot houses new and used accessible vehicles. Plus, we rent as well as sell. If you want the cheapest prices on accessibility and adaptive driving modifications or service in the Columbus, OH area, you should stop by. Our expert and certified technicians provide the best work at the lowest costs. We handle installations and service on scooter and wheelchair lifts, ramps, hand controls, restraint systems and other mobility products.
Head to MobilityWorks, Columbus for Your Wheelchair Van
MobilityWorks, Columbus is your complete mobility solution in the central Ohio region. If you want to buy, rent, modify or service a wheelchair van, pay us a visit on any weekday from 8:00 am to 5:30 pm or on Saturday from 8 am to 12 pm. We are dedicated to providing the highest levels of customer satisfaction. We're part of the local community, and consider it an honor to offer increased mobility and more freedom to our neighbors. Let us show you how we deliver the highest quality, safest products with the best customer service, and how we do so with the utmost integrity.
What We Offer
Additional Services