Dodge Grand Caravan BraunAbility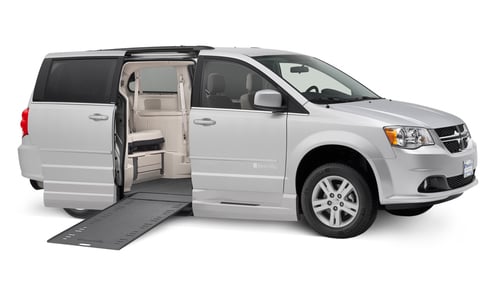 Consumer Reviews
We looked at several van conversions and used vs new and bought a new BraunAbility Caravan SXT with an in-floor ramp. We have had the van well over a year and love it. A few features that could be improved at ground clearance (lowered floor vans catch on lots of stuff) and for the price I would have expected auto headlights and a better sound system. The rear seats also do not stay folded in an upright position while hauling if there isn't something holding them up (they could really use an upright lock button). The dealer you choose is also important as we had a few issues and getting them fixed after the sale was challenging, just because the dealer is great before the sale does not mean they will be that way after the sale. Now for the best part, I can get out and go wherever I want now. Once the parking a side entry van learning curve was done I hardly ever get blocked out by other vehicles. The Braun van is an amazing product and has plenty of power and great visibility.
I have a Bruno Joey lift in the rear of my van to load my mobility scooter, and then I walk to the driver's seat using forearm crutches to drive using hand controls. Even though it's not exactly like the ones in the list, it HAS greatly impacted my life. Before getting this van, I was stranded and totally dependent on others, and only if they had a trunk/rear big enough to take my scooter apart & lift it in piece by piece, and also a vehicle I could get in & out of easily... not too low or not too high. I pretty much was stuck at home almost all the time for 7 years! Once we got this van with the lift & hand controls, I got my independence & freedom back, because now I can take off anytime I want!! It's amazing, it's breathed new life back into my life!!! I have things to look forward to now, I'm not just moping at home, depressed & miserable. This van is amazing!!!!
My disability had worsened that I could no londer get into a car. I had just made up my that I would never go anywhere again. They would bring me to the car with a wheelchair. The last time was on Christmas Eve, they had a stool balancing on the curb. Their idea was to get me out of the wheelcair onto the stool and have others pull me into the car and other moving the stool and get my legs into the car. Never again!!
Before we got our Dodge conversion van we had a Plymouth van with a lift. Few people realize you can't see out sitting in the back. I had been riding in the back for 19 years missing out on seeing anything. What a pleasant surprise to be able to sit in the front and see all the new sights.
Leave a Review
I bought this used a dodge van with a joey lift in it and it's best investment I ever made. I take my scooter to the casino and enjoy freedom. i do not know who had the van before me but its in good condition. i would love to have a side door axcess for it would make it easer for both me and my sister who is on a walker and can use the scooter at times for we are both in our 80's. Thank God for mobility works for making it easy for seniors with problems.
My son had gotten too heavy to lift into the van but now we can go anywhere. His other van that he drove himself he pulled himself in and pulled his wheelchair in. He would then crawl between the front seats and lift himself into the seat. As he got less mobile because of the damage being done to his shoulders we had to buy a van with a ramp and transfer seat. He has less shoulder problems and goes out more. It gave him freedom to travel by himself.
It has given our entire family a sense of freedom. We are able to travel long distances as well as daily local travels. Wherever we go we are now able to take our granddaughter with us.
I was like any other 16 year old. Eager to drive, hang out with friends, and be independent. My nuro-muscular disease made that difficult, but my wheelchair accessible Van made it possible.
Schedule your test drive today.