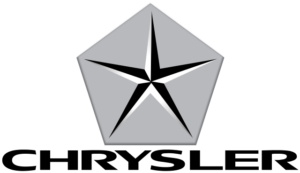 Chrysler Wheelchair Vans
As a part of Stellantis, the Chrysler brand is one of the top automotive brands in the United States. Chrysler's Pacifica and Voyager are the most popular mobility vehicle models for people with disabilities. Conversion manufacturers, including BraunAbility, VMI, Driverge, and AMS are able to outfit these popular Chrysler models with handicap conversions to make them wheelchair-accessible. Chrysler handicap vans are praised for their award-winning features and customization options:
Customers can choose from Chrysler rear-entry vans and Chrysler side-entry vans based on their preference.
AutoGuide named the Chrysler Pacifica it's 2021 Family Car of the Year.
Chrysler vehicles are known for their superior design, including a spacious interior that is ideal for families.
In addition to style and comfortability, Chrysler vehicles are also known for their premium safety features. The 2022 Chrysler Pacifica was named a "Top Safety Pick" by the Insurance Institute for Highway Safety (IIHS). If you or a loved one is interested in a Chrysler wheelchair van, The Mobility Resource offers a variety of new and used Chrysler wheelchair accessible vehicles for sale. All of our vehicles are available with flexible financing options from The Mobility Resource's dealer network so that you can find an affordable wheelchair van.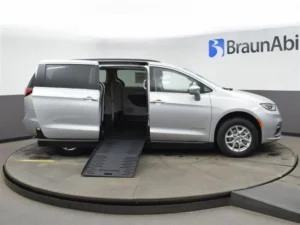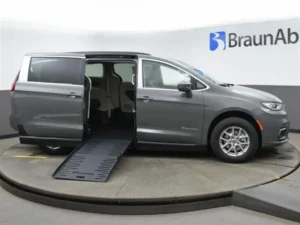 Chrysler Pacifica
The wheelchair-accessible Chrysler Pacifica is available in various trim levels, with each one providing its own unique benefits. The most popular models include the Chrysler Pacifica Touring and Touring L. The Chrysler Pacifica Touring is the base-level trim option available, which is the most affordable option of all the Chrysler models. The Chrysler Pacifica Touring L includes updated trim features including heated front seats, roof rails, leather seat surfaces, and window shades in the second and third rows. Learn more about the side-entry and rear-entry Chrysler Pacficai below to see which one best fits your mobility needs.
Rear-Entry Chrysler Pacifica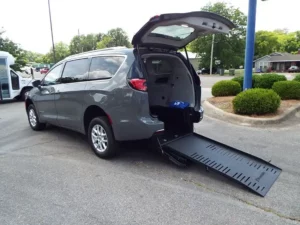 Both the Chrysler Pacifica Touring and Touring L are available for rear-entry conversion. Below are a few benefits of a rear-entry Chrysler Pacifica handicap van:
• Rear-entry vans are typically more affordable than side-entry vans.
• Attendants traveling with wheelchair users are able to be seated next to the wheelchair while in motion.
• Rear-entry vans make entering and exiting the vehicle as barrier-free for wheelchairs as possible, as well as providing easy entry and exit to and from the back seats.
• Rear-entry vehicles offer more parking flexibility in standard parking lots.
• Rear-entry wheelchair vans provide more seating positions inside the vehicle when fold-down rear benches and center seats are maintained, making them an excellent choice for large families.
Side-Entry Chrysler Pacifica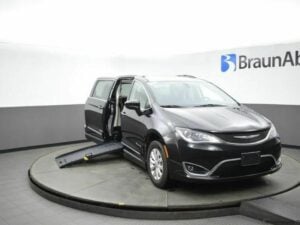 The Chrysler Pacifica Touring and Touring L are also available for side-entry conversion. Below are a few benefits of a side-entry Chrysler Pacifica wheelchair van:
Flexible floor plan configurations.
Wheelchair users are able to drive the vehicle from their wheelchair or sit in the front passenger seat area with proper outfitting.
Vehicle can be exited with the wheelchair facing forwards or backwards, depending on the user's preference.
Multiple ramp options, including manual and power, fold-out ramps and in-floor ramps that stow under the van once the door is closed.
Lowered-floor design that offers more accessibility to the driver's seat, as well as more room when entering, exiting and traveling in the vehicle.
Related Resources