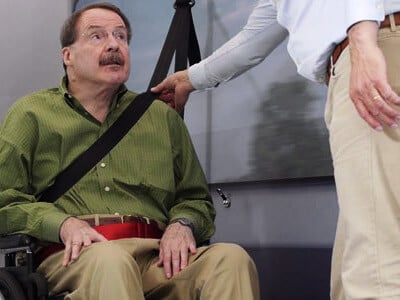 For commercial wheelchair van drivers working in the non-emergency medical transportation field, passenger safety and comfort is always top of mind. The PASS driver certification program, which stands for Passenger Assistance, Safety, and Sensitivity developed by the Community Transportation Association of America (CTAA), is considered to be the industry standard, especially those who focus on transporting people with disabilities.

CTAA PASS Training Subject areas include:
Customer Service, Professionalism
ADA – The Americans with Disabilities Act
Disability Awareness, Service Animals
Wheelchairs & Assistive Devices
Wheelchair Securement
PASS training has been incorporated successfully into door-to-door ride services, specialized services for seniors and people with disabilities, Veterans Administration sponsored operations, urban ADA paratransit services and many other demand-response transit programs. The Mobility Resource highly recommends CTAA PASS Certification of commercial van NEMT drivers.
ADA Van Safety Requirements
See our extensive article on wheelchair van safety and ADA requirements for commercial wheelchair vans.
Wheelchair Securement
Wheelchair securements are vital aspect in the overall safety of a any wheelchair van, whether it's in a commercial NEMT full-size van or consumer accessible minivan used by an individual or family. Read more about wheelchair van tie-downs and securement devices.
Additional Resources
The Mobility Resource provides additional Commercial Vehicle and NEMT transport information in the following articles:
• Media Room — Common Acronyms Used with Commercial Wheelchair Vans
• FAQs — Frequently Asked Questions about Commercial Lift Vans
• Knowledge Base — Medicaid and Non-Emergency Medical Transport Services
• TMR Blog — Assisted Living Resident Transportation
• TMR Blog — NMEDA MQAP Manufacturer Quality Assurance Accreditation
Photo courtesy of AMF-Bruns of America, a leading manufacturer of wheelchair restraints.