Accessible Transportation Enables Seniors to Live More Independently and Prevent Feelings of Isolation
Prior to COVID-19, brochures and websites for senior living communities proudly advertised their ability to provide resident transportation to hairdressers, shopping centers, religious services, outings and other daily activities. Years ago, assisted living centers with an ample fleet of shuttle buses and wheelchair vans discovered that families evaluating a place for a loved one often look to transportation services as an indicator of quality service. They wanted to know whether a parent or grandparent was going to be able to continue enjoying the activities they're been accustomed to.
Hopefully, the new vaccines being distributed in recent weeks will bring us back to normal living very soon. What differentiated one assisted living facility from another in meeting the needs of active senior lifestyles was often found outside the center, ready to take a group of seniors on the road. It was the numerous minibuses and commercial full-size lift vans that provide a vital service to the residents.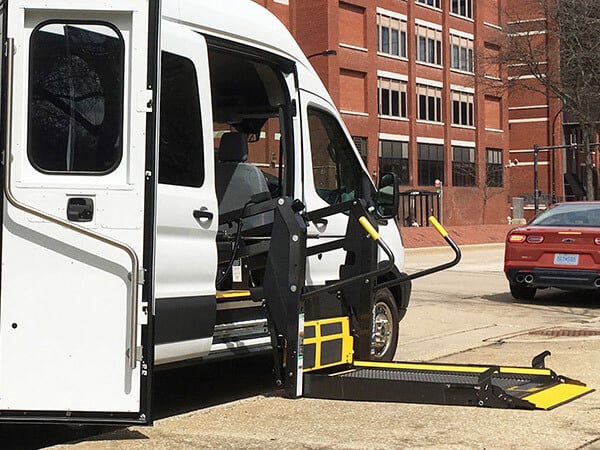 Moving Billboards that Promote an Active Senior Lifestyle
From a marketing perspective, shuttle buses are moving billboards that provide continuous, visual advertisements of the center to the community. While many facilities contract for medical ambulatory type trips, the dynamics and importance to customer satisfaction in getting residents to outside activities has changed how organizations view their transport capacity. By increasing their transportation capabilities and marketing appeal with more activity options, a facility has a greater chance of keeping their units filled.
Centers today can have several multi-passenger vehicles on the road at any given time, transporting one or a dozen residents to and from various destinations. Almost all of these commercial transport vehicles have a wheelchair lift and space for wheelchair passengers, a necessary feature in providing mobility and freedom for many residents. Some vehicles can accommodate several wheelchairs, while others can only fit one or two at a time. All wheelchair vans have special tie-down systems in place for keeping wheelchairs in place and for passenger safety.
Whether it's a 12-person minibus with wheelchair accessibility or a traditional van with a fold-out lift, the right combination of vehicles in a fleet can provide a great service for residents and an opportunity for growth. Successful centers are an active participant with its neighboring communities and the senior group events that bring friends together. Wheelchair-accessible buses and vans provide more opportunities for continued community involvement and increased awareness to potential new residents. The ability to be flexible and creative with providing transport services will become increasingly more important for centers in the future.
For more information about commercial lift vans, check out our Frequently Asked Questions (FAQs) page.
You may also want to review our Media Room article on commonly used acronyms used with commercial vans.
Photo of Ford Transit CurbSmart® courtesy of Driverge Vehicle Innovations.
Find your perfect Wheelchair Van
Select from thousands of wheelchair vans for sale from hundreds of nationwide dealers
The Mobility Resource has one of the largest selections of Dodge, Toyota, Chrysler, Honda, Ford, Chevrolet wheelchair vans
View All Wheelchair Vans