AMS Wheelchair Vans
Adaptive Mobility Systems (AMS) is a wheelchair van manufacturer that has been serving customers since its incorporation in 1979. Initially providing full-sized wheelchair accessible vans, AMS transitioned to lowered floor minivans in 1999. The company's current vehicle inventory includes notable OEMs such as Dodge, Ford, Toyota, Chrysler, Honda and ProMaster. AMS Vans is now owned by Vantage Mobility International (VMI), a Phoenix, Arizona-based manufacturer of wheelchair vans that has been in the industry for over 30 years. Although AMS has been acquired by VMI, the brands remain separate entities, sharing resources to provide more widespread access to mobility vehicles. In addition to providing certified pre-owned wheelchair vans, AMS offers options to sell or trade-in wheelchair accessible vehicles.  AMS can even convert your current vehicle to accompany a wheelchair if your vehicle meets certain requirements.
About AMS
AMS wheelchair vans are available with both rear and side-entry handicap conversions. For individuals seeking special financing on new and used wheelchair accessible vehicles, check out The Mobility Resource's flexible financing options. Individuals looking to buy a wheelchair van will find many new and used accessible vehicle options within the AMS dealer network. These options are available online, but consumers can also be connected with a local dealer who can provide an in-person look at various conversion vans for sale.
Available AMS Vehicles
Select wheelchair vans converted by AMS are available within The Mobility Resource's inventory: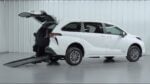 Toyota Sienna
A popular choice for families looking for standard luxury and convenience features, the Toyota Sienna provides plenty of room for wheelchair riders and third-row seating for three.
You'll find new and used handicap accessible Toyota conversions in both rear and side-entry capability in both power and manual options, plus removable front seats to allow the wheelchair user to drive or sit passenger side.
Locate a dealer near you to find converted Toyota wheelchair vans available for sale at the most competitive prices.
Learn More >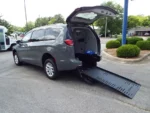 Chrysler Pacifica
The stylish Chrysler Pacifica is available with several different wheelchair ramp conversions and OEM trim levels for every accessible transportation need. Available in both rear and side-entry options plus additional customization depending on your individualized needs, you'll find both new and used wheelchair van conversions for sale.
Locate a dealer near you to find available Chrysler Pacifica wheelchair vans for sale at the most competitive prices.
Learn More >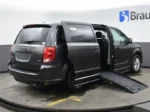 Dodge Grand Caravan
Open to Adventure, the BraunAbility Dodge Grand Caravan has been the most popular wheelchair van sold in the United States for the past decade.
Used Dodge Grand Caravans can be found in both side-entry and rear-entry, with options to add additional customization for your accessibility needs.
Although Dodge is no longer manufacturing new Grand Caravans, these competitively priced side-entry vehicles offer some of the industry's top accessibility features and can be found at affordable prices.
Locate a dealer near you to find available side-entry Dodge Grand Caravan wheelchair vans for sale at the most competitive prices.
Learn More >
Related Resources