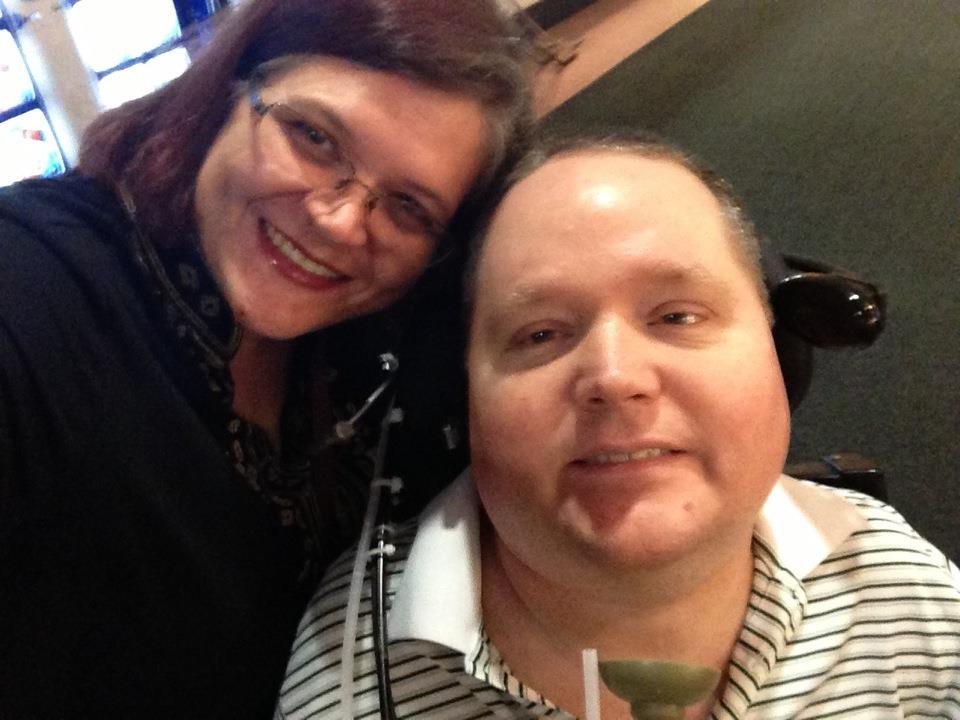 When I met Chad, a C4/5 quadriplegic, I was smitten immediately. We met online and within a week of meeting, we were inseparable. A year and a half after meeting, we got married and it's now been 10 years since we first met. However, telling people we were going to get married was a mixed bag of reactions on my side of the equation.
What do you see in him?!
What I see in any other guy I date. A man with a terrific personality, with talents and presence. He has a wickedly and hilariously dry sense of humor, is well educated, loves wine, is an avid hockey fan and to top it all off is very good looking (very shallow of me, I know, I know). He spoils me to death, buying me gifts all the time for no reason other than he loves me. I have never been with someone so thoughtful and kind. I couldn't ask for a better man to marry.
You'll just end up as a caregiver, not a wife.
This is a legitimate concern, especially with increasing levels of impairment. Chad's disability is very limiting because he only has a shoulder shrug and head turn and as such requires total care for all activities of daily living. The ideal situation is to pay aides to come in and do the caregiving rather than having the spouse do caregiving. But that can get expensive, and as such, there have been times over the past 10 years I've been with Chad that I have been the sole caregiver. But even when I have been that sole caregiver, we mentally separate caregiving from our love for each other. It's not easy, but it is possible if you are determined to make a marriage work.
You won't be able to go anywhere for vacation.
We can't fly anywhere because Chad's chair is too bulky and complicated to fly. But his situation is not very representative of most people with disabilities who are perfectly able to fly with a little patience and extra time at the airport. And we are willing to drive long distances for our vacation in our converted accessible van.
Who will do the "guy stuff"?
I don't know how to fix the garbage disposal when it croaks out. I am useless when the garage door stops working and my car is trapped inside. I can't carry a couch up the stairs, even with help. This part sucks about not having a "guy" around to help me. But, in my case this is because Chad's disability level is very limiting. Paraplegics and others with less impactful injuries or disabilities are perfectly capable of fixing stuff around the house. And in our case, we are very lucky to have my parents living one block from us, so my dad does all the guy stuff around our house for me. And now that my son is entering the teenage years, he is turning into a very useful guy, too.
Related: On Caring For My Husband: I Wonder If I Can Do This Forever
He's going to die an early death.
No, he's not. While statistics vary, people with disabilities generally live average length life spans. And besides, I take amazing care of him and I'd kill him if he dies on me.
You'll be poor.
Yes, being disabled generally costs a lot of money. To start, there is the $47,000 wheelchair (I wish I was kidding about that, but I'm not) – which insurance pays for most, but not all of – and even a small percentage co-pay of that baby is a lot to fork over. Then there are catheters and a myriad of medications that he has to take which adds up to well over $200 a month. And he undergoes medical procedures that cost us a pretty penny in co-pays on a semi regular basis as well.
And then there's that very expensive converted wheelchair accessible van, and the $50,000 of accessible modifications we had to make to our home when we moved in. And of course, paying aides – which believe it or not, insurance does not cover aides (no one believes this when we tell them at first, but it's true). So we pay out of our own money for aides. So, as you can see, it is indeed expensive and this concern has merit. But in our case, we are very lucky because my husband had an excellent full time job that he retired from and I have a full time job. But if you don't have such an arrangement, yes, you can be financially strapped.
You'll be rich from the accident settlement / trust fund.
Sometimes people believe, particularly in the case where a person is injured in an accident, that there is a large insurance settlement that makes the person with the disability rich. Or those born with a disability have a family trust fund that make them independently wealthy. It may be the case for a few – but not many. And see above – it's expensive to be disabled.
You'll never have sex again.
People with disabilities can have sex – even high-level quads. It just takes a little creativity. Enough said (although you would not believe how many people ask for the details).
After I married Chad, people warmed up to him over the years and he is truly a treasured and loved member of the family. Everyone now sees what I see – a whole person, not the wheelchair.
Find your perfect Wheelchair Van
Select from thousands of wheelchair vans for sale from hundreds of nationwide dealers
The Mobility Resource has one of the largest selections of Dodge, Toyota, Chrysler, Honda, Ford, Chevrolet wheelchair vans
View All Wheelchair Vans