The type of ramp installed on a wheelchair van for sale is one of the most critical features to consider in making your purchasing decision.
When researching different consumer wheelchair vans for sale to be used by an individual or a family, you will soon discover there are many different makes, models and conversions available – with the majority of vehicles being minivans. One of the most distinct differences will be side entry and rear entry options, clearly visible by the ramp location. Not as clear, however, depending on the description and photos taken, is the type of ramp that is installed on the vehicle. These are referred to in the mobility industry as foldout ramps and infloor ramps. Infloor is also sometimes called a 'slide out' ramp. Before making a purchasing decision on which wheelchair van to purchase, knowing which type or ramp operation (manual or power) and ramp style is best for your family's unique needs are critical to making the right selection. A wheelchair van is a costly investment that you will want to be happy with for many years to come.
Key Issues with Infloor vs. Foldout Ramps
In previous years, infloor (slide-out) conversions were considered to the more expensive option when selecting the type of wheelchair ramp operation. That was when nearly all infloor ramps were power operated. Conversion manufacturers, however, have since added manual infloor designs that provide for a less expensive option. This design requires a caregiver to pull the ramp out from under the floor using a device that attaches to the end of the ramp. Powered infloor ramp, on the other hand, is still going to be your most expensive conversion option (typically) depending on the year, make and trim level. Mileage is also a key factor in the pricing of vehicles for pre-owned vans.
The primary benefit of the infloor is not having a ramp stowed in its upright position blocking the doorway. This allows for ambulatory (able-bodied) passengers to enter and exit more conveniently when the vehicle. Infloor also requires occasional preventive maintenance to keep the track free of dirt and debris that can build up, especially in cold-weather areas where snow and street salt can affect normal operation.
Power foldout ramps on a side entry minivan are the most popular wheelchair vans being sold today. The power ramp and sliding door are typically wired together so they operate with a single push of a button. They provide for ease-of-use, simple maintenance and the ability for the wheelchair user to open the power sliding door and deploy the ramp. Power foldout ramps require occasional preventive maintenance every six months to ensure trouble-free operation. They have an electric motor and chain-driven mechanism that lowers and raises the ramp. Manual foldout ramps, on the other hand, however, are very simple to operate and the least likely style to need maintenance. This is due to its simplistic design and lack of having any motorized components that could fail. Manual ramp conversions are less costly but they typically require a caregiver to deploy and stow the ramp.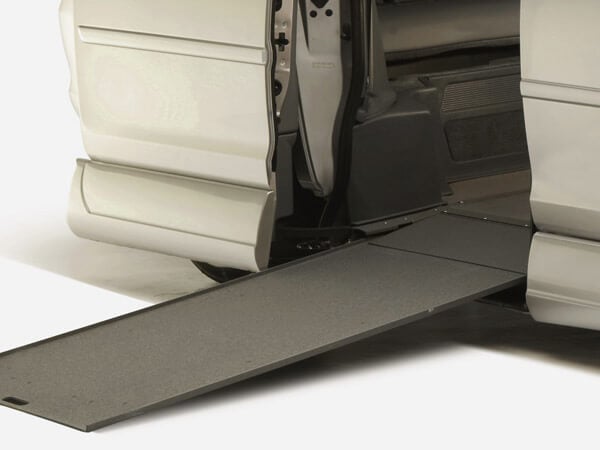 Key Issues with Manual vs. Power Ramps
Just as it sounds, manual ramps and power ramps are either deployed manually by folding or sliding out the ramp by hand – or with the push of a button on the dash, inside the passenger door's b-pillar or with a key fob remote control. Manually operated ramps, regardless of style, require a caregiver to help with opening the door, setting the ramp for accessible use, placing the ramp in its stowed position and then closing the passenger-side sliding door. If you're looking to add hand controls that will provide for the wheelchair user to drive the vehicle, then a power operated ramp is what you will want to have.
Free Needs Analysis and Mobility Consultations
Whatever type of van you are considering, it's highly recommended to go to a van dealership and try out the different options in person. Wheelchair tie-downs and other securement options vary by adaptive equipment manufacturers. A certified mobility consultant (CMC) can go over all of the options and provide for a demonstration of the vehicles and safety features during a needs analysis and mobility consultation. These can be scheduled by using our Needs Analysis Special Offer form and are currently free of charge by all of The Mobility Resource dealers.
Using Our Inventory Filters to Find the Right Wheelchair Van for Sale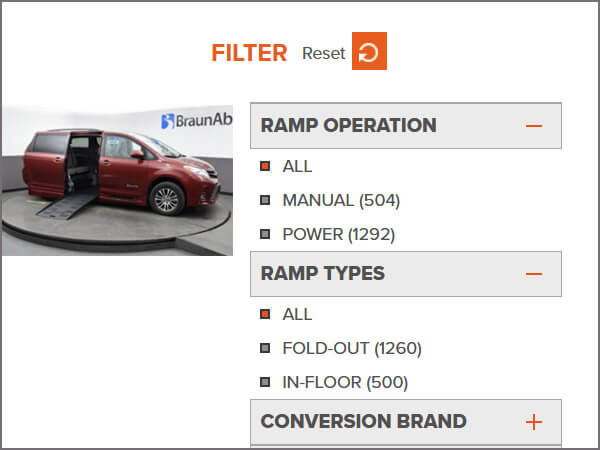 One of the many features available to users of our inventory page is the ability to filter many different selections. These filters include: Make (Dodge, Chevy, Chrysler, Ford, Honda, Toyota); Style (minivan, SUV, truck, full-size); Condition (new or pre-owned); Ramp Operation (manual or power); Ramp Types (infloor and foldout); Conversion Brand and even color! Check out our current wheelchair van inventory with over 2,000 vehicle from over 100 mobility dealers serving nearly every major US metro area.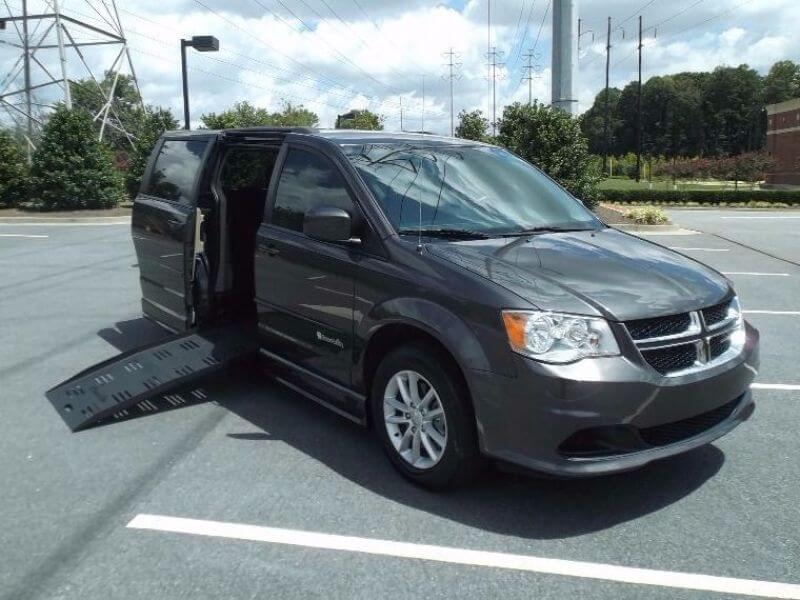 Find your perfect Wheelchair Van
Select from thousands of wheelchair vans for sale from hundreds of nationwide dealers
The Mobility Resource has one of the largest selections of Dodge, Toyota, Chrysler, Honda, Ford, Chevrolet wheelchair vans
View All Wheelchair Vans