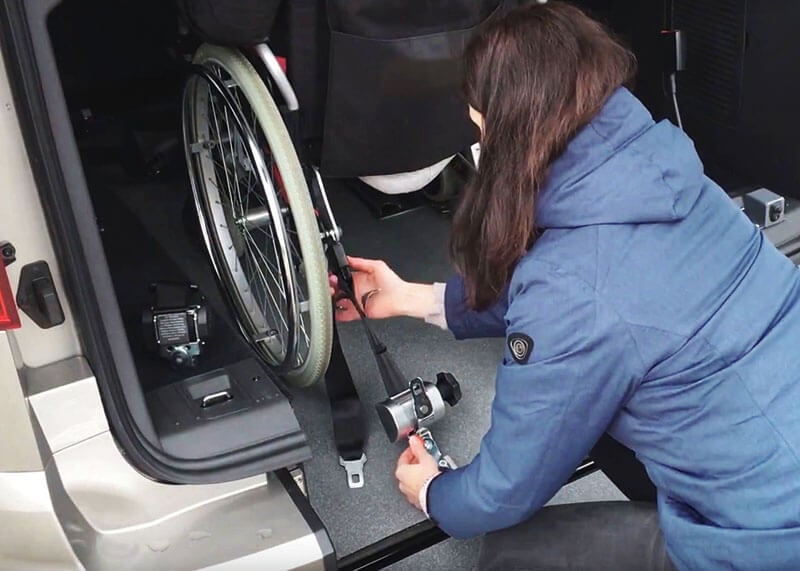 For people with disabilities who use manual or motor wheelchairs, how do you keep yourself anchored in an accessible vehicle? There are several types of anchors and straps to keep a wheelchair in place, making it secure from external forces, such as an accident or sudden stop. However, there are so many options to choose from, it can be hard to know which wheelchair tie-down system is best for your unique needs.
In this guide, we'll discuss some of the most common types of wheelchair securement systems and alternatives to help you understand which one might be the best for you. 
Slide and Lock Floor Anchor and Tie Down Straps
Many accessible vehicles are modified to include floor anchors, a metal slide, and a lock system. Retractable straps with hooks are attached to four quadrants of the wheelchair, making a wheelchair secure from tipping over. Consumers should always use tie-down straps on all four points of the wheelchair when getting in and out of the vehicle.
Shoulder straps and lap straps can also be hooked onto the slide and lock system as well, satisfying seatbelt laws and providing even more support.
Wheelchair Docking Floor Anchor
An electronic wheelchair docking system is attached to both the floor of the vehicle and the underside of a motorized wheelchair. This creates a base that automatically docks to the base of a motorized wheelchair. Be sure to test the clearance level of the component attached to the motorized wheelchair, as some users in rough environmental conditions such as gravel, mud, or snow, may find the base is too low.
Manual Wheelchairs
For drivers with disabilities using a manual wheelchair, transferring to a regular seat may be the option. Few wheelchairs, especially manual wheelchairs are built to withstand a crash in a motor vehicle. A transfer seat or swivel chair may be a better option. Even if you transfer into a regular seat, a driver will want to secure or stow their manual wheelchair so it does not move in transit.
Buses and Airplanes
Some people with disabilities may use alternative methods of transportation such as buses, rental vans, and airplanes. Buses often use straps to secure a motor wheelchair during their route. Many airlines require an aisle chair and may offer additional assistance to get on a flight; be sure to ask for what you need and allow plenty of time. 
Discuss these systems and accessories with an accessible vehicle specialist to find out which one may be the best fit for your mode of transportation.
Additionally, make sure to research forums like Reddit and read product reviews to see what other considerations you may need to consider.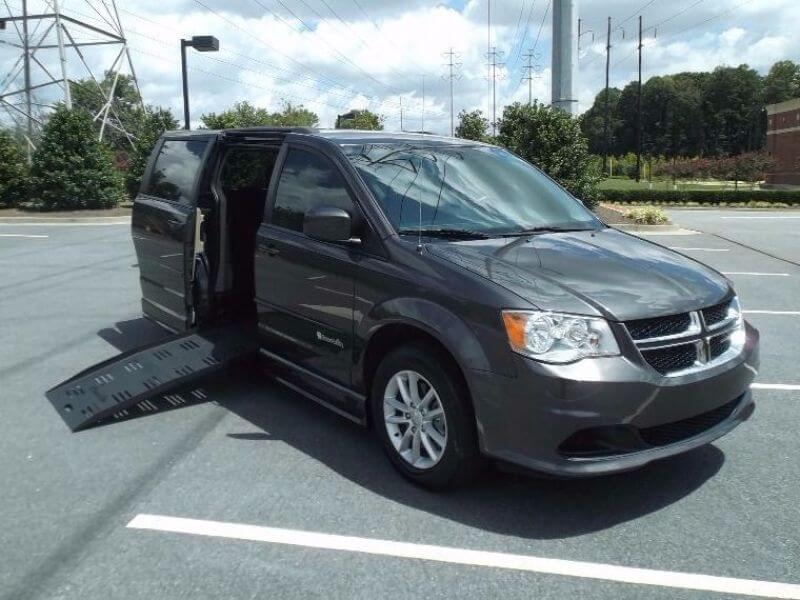 Find your perfect Wheelchair Van
Select from thousands of wheelchair vans for sale from hundreds of nationwide dealers
The Mobility Resource has one of the largest selections of Dodge, Toyota, Chrysler, Honda, Ford, Chevrolet wheelchair vans
View All Wheelchair Vans