1. Vehicle Conditions to Consider
When looking for your first wheelchair van, it may be a surprise to learn the cost of purchasing one is going to be more than what was expected. That's because the conversion process can add up to $30,000 to the cost of a vehicle depending on the equipment being added.
Depending on how concerned you are with having a shorter OEM warranty period (vs. a brand new vehicle), purchasing a used handicap vehicle makes sense for many individuals and families. Let's take a look at some of the things to consider.
Not unlike used cars, vans and trucks that are non-accessible, the value of a used wheelchair van will also correspond to some of the same key features: Year; Make & Model; Trim Level; Vehicle Condition; Electronics Package (such as navigation); and other options such as aluminum wheels.
Condition is the most important factor when determining the value of a used wheelchair-accessible van. Scratches, dents, cracks in the windshield, rust and tire wear can significantly reduce the value of a vehicle. On the interior, visible damage to any of the seats, dashboard or signs of smoke use will also impact value.
Once you get beyond the typical selling points of a used handicap vehicle, however, you need to start looking at some of the conversion features that were added to the van that made it accessible.
2. Conversion Features to Consider with Used Handicap Vans
The value of used accessible minivans can vary greatly depending on the type of ramp operation that was installed and where it is located. Manually operated ramp designs are typically going to be at a lower cost than the power-operated conversions.
A manual folding ramp in the back of the vehicle that uses the rear OEM hatch is typically going to be available at a lower price point than side-entry options. That's because the conversion process for a rear-entry wheelchair van is less costly and easier to manufacture. They also typically provide the least amount of maintenance.
Side-entry wheelchair ramps are available in four different styles, including: (1) Manual Foldout Ramp, (2) Manual Slide Out InFloor; (3) Power Foldout Ramp; and (4) Power Infloor. For more information on the different ramp styles, visit our Foldout Ramps vs. Infloor blog post.
Other things to consider are the ramp weight capacity, ramp angle, the flooring material inside the van, and the type of tie-down system. Rubberized flooring made out of a commercial-grade material will provide the best option for wheelchair maneuverability and will last much longer than other materials. Retractable tie-down straps are the easiest to use and have a higher resale value.
3. Understanding Wheelchair Positioning
While most wheelchair vans provide for the wheelchair passenger to ride in the middle, second-row area, many will also have removable front seats on a roller base. This allows for the wheelchair passenger or driver (with hand controls) to be in one of the front row positions. The seats can easily be unlocked and rolled out through the passenger side sliding door using the wheelchair ramp.
Having this option available also adds more value to the vehicle when you're deciding to purchase.
4. Try Before You Buy
One of the most important things you can do before buying a used handicap van is to try it before you buy it. Not all wheelchairs are alike, and neither are all wheelchair vans.
Ramp width, door height, interior space, and many other features can only be evaluated by actually using the ramp and taking the van for a test ride. Quality mobility dealers will want to provide you with a Needs Analysis and Mobility Consultation to make sure that you are selecting the right conversion (new or used) for your situation and budget.
The more you know ahead of time, the easier the process will be with getting the right used handicap van for sale – at the right price.
A test ride will also let you check things like the brakes, power windows, power seats, lights, windshield wipers, radio, air conditioning, and any unusual engine or transmission noise. Also, be wary of any strange smells that appear to be from oil or radiator fluid leaking from the engine. Ask if the dealer has a pre-sale inspection process to check all of these items before a vehicle can be listed as ready for sale.
5. Financing a Used Wheelchair Van from a Mobility Dealer
For a majority of the used handicap vans being shown online by our quality mobility dealers, financing through the dealer is going to be an option.
They work with banks and other lending institutions that know their business and the unusual circumstances that go with the sale of a new or used wheelchair van.
Most dealers will also be able to take a trade-in as a down payment, including non-accessible vehicles at blue book trade-in value.
You can also apply for financing directly through The Mobility Resource, which comes with the unique ability to cover both your used wheelchair van and the conversion equipment that comes with it.
6. Preventive Maintenance and Service
Unlike non-accessible minivans that you take to the OEM dealer or your local auto mechanic, wheelchair vans require specific preventive maintenance procedures and repair by certified technicians. Replacement parts for the ramp and other adaptive equipment are also unique to mobility dealers. Make sure that you are buying a vehicle that can be serviced by NMEDA QAP-approved dealers.
To find a mobility dealer near you, contact The Mobility Resource at 1-866-771-770 — or visit our Find a Dealer page to search by your state or zip code.
Photo courtesy of MobilityWorks in Bedford, Ohio.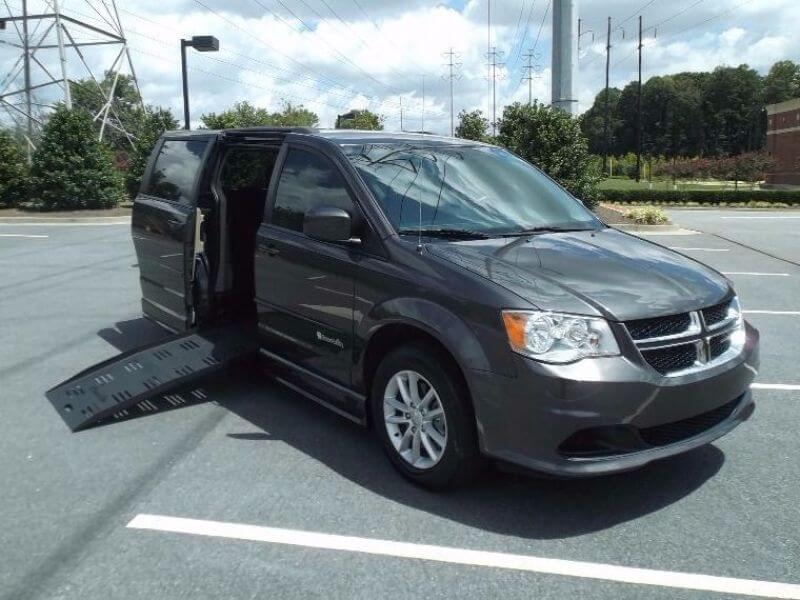 Find your perfect Wheelchair Van
Select from thousands of wheelchair vans for sale from hundreds of nationwide dealers
The Mobility Resource has one of the largest selections of Dodge, Toyota, Chrysler, Honda, Ford, Chevrolet wheelchair vans
View All Wheelchair Vans