Major Conversion Manufacturers Bring Toyota Hybrid to the Mobility Vehicle Market
Two of the largest wheelchair van manufacturers in the mobility industry are now taking pre-orders on their uniquely different Toyota Sienna Hybrid wheelchair vans. Let's take a look at these two exciting additions to the mobility vehicle marketplace.
---
VMI Toyota Sienna Hybrid AWD with the Northstar® In-Floor Ramp System
Vantage Mobility International, more commonly known as VMI, has designed an all-new in-floor version of the Toyota Sienna Hybrid with All-Wheel-Drive (AWD). It is a fully powered conversion designed with VMI's Northstar® ramp system, providing customers with its Access360® interior space and an unobstructed doorway.
The Sienna Hybrid handicap van uses electronic on-demand AWD with a separate independent electric motor to power the rear wheels the instant additional traction is needed. During off-the-line starts, the vehicle pre-emptively sends up to 80 percent of driving force to the rear wheels to help prevent the front wheels from slipping. The Hybrid AWD system also enhances cornering agility by helping to reduce understeer, giving the Sienna a more confident handling feel.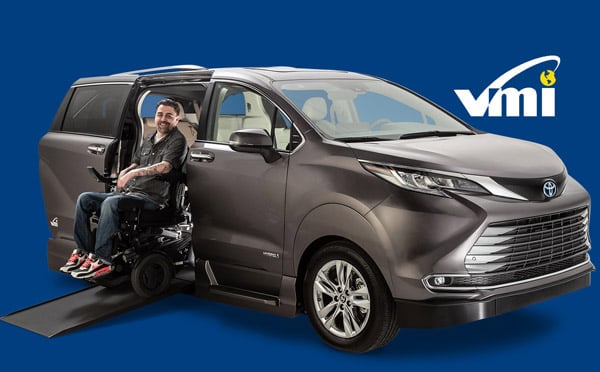 The new VMI Toyota wheelchair van is available to order from its nationwide mobility dealer network, including a majority of participating dealers listed on The Mobility Resource. Visit VMI for additional information on the first-ever Hybrid All-Wheel Drive Accessible Van.
---
BraunAbility Toyota Sienna Hybrid with Power Foldout Ramp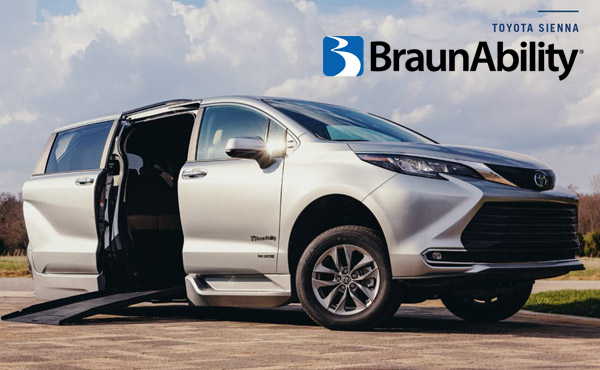 BraunAbility engineered their Toyota Sienna Hybrid wheelchair van with its popular side-entry power foldout ramp system. Their Toyota Sienna Hybrid includes the following features:
​Side-entry with power foldout ramp
​Extra-wide doorway opening ​
29.25" wide ramp, 56" doorway height​
Spacious cabin matches previous model year Toyota conversion​
36 mpg – city or highway – fuel economy retained after conversion​
Customized center console retains the comfort and tech features while maximizing space for driver and front passenger​
Industry-proven kneeling system achieves a 9.5-degree ramp angle for easy entries and exits​
Full-length, rotating footrest stows compactly with little effort
​Industry-first LED lighting to softly illuminate cabin for easier navigating
Toyota Sienna trim levels available from BraunAbility include the LE, XLE, XLE Plus, and Limited. Learn more about the BraunAbility Toyota Sienna Hybrid Conversion.
---
Foldout and In-Floor Wheelchair Ramp Conversions
For more information on different styles of ramps, see our blog on Foldout vs. Infloor ramps for wheelchair accessible vans. To find a mobility dealer near you, contact The Mobility Resource at 1-866-771-770 — or visit our Find a Dealer page to search by your state or zip code.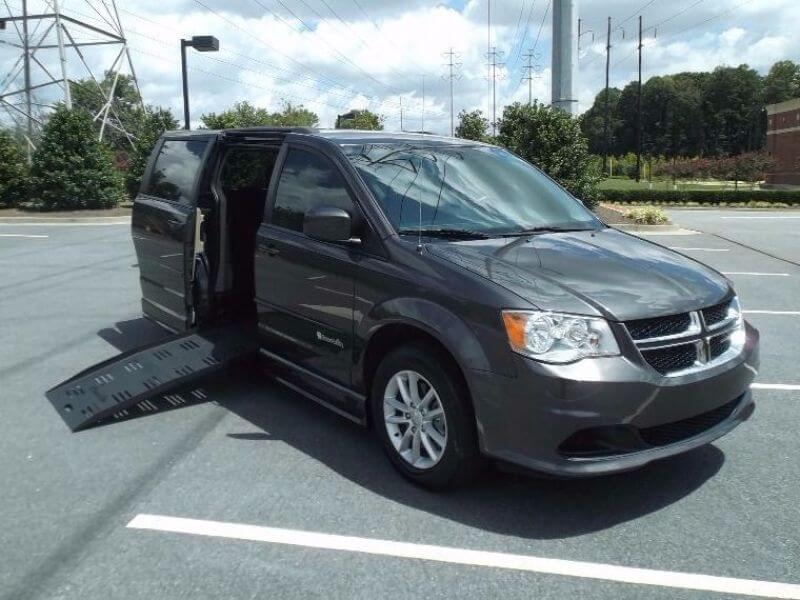 Find your perfect Wheelchair Van
Select from thousands of wheelchair vans for sale from hundreds of nationwide dealers
The Mobility Resource has one of the largest selections of Dodge, Toyota, Chrysler, Honda, Ford, Chevrolet wheelchair vans
View All Wheelchair Vans