It's normal for people to want to act immediately when a loved one has a stroke or suffers a debilitating injury. Unfortunately, making rash emotional decisions on what to do about accessible travel isn't always the best long-term solution. I've personally been involved with having to make these decisions only a year ago with my father (now passed). Each situation is very different and requires making an informed, knowledgeable decision that takes into account short and long-term considerations. Talking to a certified mobility consultant and learning as much information as possible is the best advice that I can give. The following is what came about within my own family.
My 88-Year-Old Father
My father was 88 years old when he passed in March, 2019. He suffered from a variety of different ailments, including congestive heart failure and diabetes. He needed to use a portable oxygen concentrator in order to breathe without difficulty. In the years leading up to the end, he also needed a walker to get around and had bi-weekly visits from a physical therapist. The water gain in his legs and feet from the diabetes eventually led to him needing to use a wheelchair. We were fortunate that his home was built to be accessible and he was able to continue living with my mother up until the last few weeks of his life. He hadn't been driving in recent years and no longer owned a vehicle, nor did my mother continue to drive. There were many discussions that I had with my adult siblings that included whether or not we should buy a new or used handicap van. How else would mom and dad, now using a wheelchair, get to where they needed to go? We talked about the cost of purchasing a van vs. leasing – and what type of ramp conversions would be best for their needs. Dad was more concerned about mom and here future welfare. He had always looked out for her and had made many sacrifices in life to make sure she would be cared for – long after his death.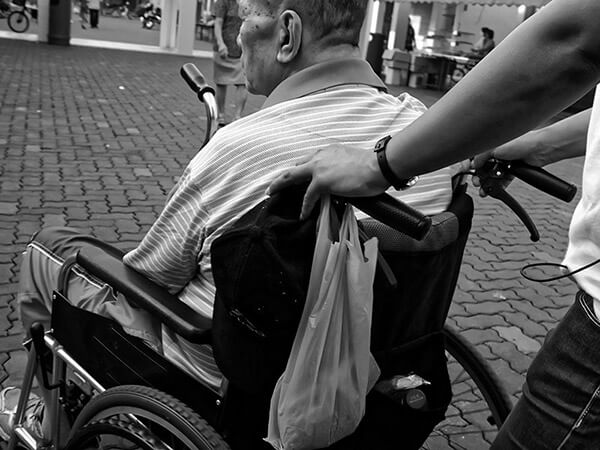 Decision Time
After many different discussions with the entire family and a local mobility consultant, we eventually decided not to purchase a van and opted to rent a wheelchair van whenever it was needed. This was not an easy decision because we all wanted to make the last years of his life as easy and joyful as possible. Unfortunately, once dad had started a downturn in health, his ailments progressed rapidly. We were also very fortunate that the assisted living community where his condo was located had a non-emergency medical transportation service for doctor's appointments and medical procedures. In retrospect, we made the right decision. The use of a van would have only been used for a few months. The money we didn't spend then is now being used to help care for my mother's needs – and I know in my heart that dad wouldn't want it any other way. That doesn't mean a personal-use wheelchair van is just what your family needs to provide mom or dad with many years of joy and independence. As I mentioned earlier, every situation is unique to each family.
Summary
Most of us are caring, loving sons and daughters who only want the best for our loved ones. Making a more informed, smart investment with purchasing a wheelchair van doesn't mean that you love them any less. Circumstances often change when a loved one can no longer walk on their own. The type of vehicle or adaptive equipment, in addition to the need for home modifications, can dramatically change along with those circumstances. A certified mobility consultant will take the time needed to learn about your unique situation with a free mobility consultation and needs assessment. Take the time to learn about which type of conversion and financing arrangements will work best for you. They will be happy to spend as much time as needed to demonstrate the different vehicles available to buy, lease or rent.
About the Author
Guy Hanford is a marketing and business development professional with more than a dozen years of experience in the specialty vehicle industry. He is now an independent writer/contributor to The Mobility Resource blog and working for Vesteras LLC, a Cleveland area marketing services agency.
Find your perfect Wheelchair Van
Select from thousands of wheelchair vans for sale from hundreds of nationwide dealers
The Mobility Resource has one of the largest selections of Dodge, Toyota, Chrysler, Honda, Ford, Chevrolet wheelchair vans
View All Wheelchair Vans