There are two main factors that determine the quality of a wheelchair van conversion: the vehicle's quality and the quality of the conversion.
When it comes to selecting a wheelchair van, there are several options ranging from minivans like the Chrysler Pacifica, Dodge Grand Caravan, Toyota Sienna, and Honda Odyssey to larger vehicles like the Ford Transit Van or Chevrolet Traverse. Understanding your needs and forming your personal criteria to choose a van will help ease the process tremendously. Once you've selected a vehicle, the next thing you'll need to consider is the condition of the conversion.
Grading Categories for Wheelchair Van Conversions
Shopping for a van conversion can be confusing. However, it becomes a lot easier when you know that conversion conditions can be broken down into three categories: new-new, used-new, and used-used. This is the standard grading system in the mobility vehicle industry that you can use to figure out the quality of a van conversion and how much it should cost.
New-New Condition
A new-new wheelchair van is a new vehicle with a new conversion. These conversions are a great option if you're concerned about buying a pre-owned van. Purchasing a van in this condition provides the highest level of vehicle warranty protection and equipment durability.
Consideration Factors
Since you are getting a vehicle with little to no mileage, you'll be able to drive your new conversion van for many years without having to deal with any repairs.
It can often be easier to find a wheelchair conversion van with all your desired features when you're purchasing a van that hasn't been previously purchased – and potentially modified or customized by someone else.
Unlike buying used conversion vans that don't always provide a lot of details about who performed all the work on the vehicle, buying a van in brand new condition will provide comprehensive details and a conversion warranty that's typically 3 years/36,000 miles.
Brand-new wheelchair van conversions generally cost between $50,000 and $100,000, with some exceptions on either side of the price range.
Used-New Condition Van Conversions
A used-new wheelchair van conversion is a used vehicle with a new conversion. This option can offer many advantages if you're looking to get an excellent wheelchair van conversion at a substantially lower price. Although the vehicle is used, the fact that the conversion and all associated equipment are new will provide a high-quality reliable vehicle.
Consideration Factors
Most used-new wheelchair vehicle conversion chassis are current, or one year old, model years with mileage under 30,000 miles. This lowers the cost by $5,000 to $10,000 compared to a new-new conversion.

Since mileage on these types of vehicles can range from 10,000 to 30,000 miles, this will be the primary factor that affects the price and reliability of the vehicle.  

If you don't need a new vehicle, you may find it advantageous to save money on a used-new van with high miles.
Used-Used Condition Van Conversions
Used-used wheelchair van conversions are the most affordable option on the market. These vans are used vehicles with a used conversion – which means used-used vans will often have the most wear and tear.
Consideration Factors
A used-used vehicle conversion can have anywhere from 10,000 to well over 100,000 miles on it and cost between $15,000 and $50,000. If you're in need of a budget-friendly wheelchair van, a used-used vehicle conversion will be your best option.
If you're only planning to do occasional driving and short distances, a used-used vehicle might just be the perfect option for you.
Ask your dealer or seller about Certified Pre-Owned (CPO) vans. These vehicles typically offer more protection in the event there need to be any repairs to the wheelchair ramp or kneeling system.

Deciding Which Conversion Condition is Best for You
Understanding the van conversion grading system is just one step toward finding your perfect wheelchair accessible van. Deciding which van condition is best for you depends on a number of factors, but the most important is budget. As you work down the ladder from new-new to used-new and eventually to used-used, prices decrease accordingly.
Wheelchair conversion van conditions can sound confusing on the surface, but once you get through the industry jargon, they are fairly straightforward.
Now that you understand the differences between van conversion conditions, you're better equipped to start searching for your perfect conversion van. You can begin your search by browsing The Mobility Resource's nationwide inventory of handicap vans for sale, including vehicles of all conversion conditions! We make it easy to connect with a local dealer near you that has the best wheelchair van for your unique needs.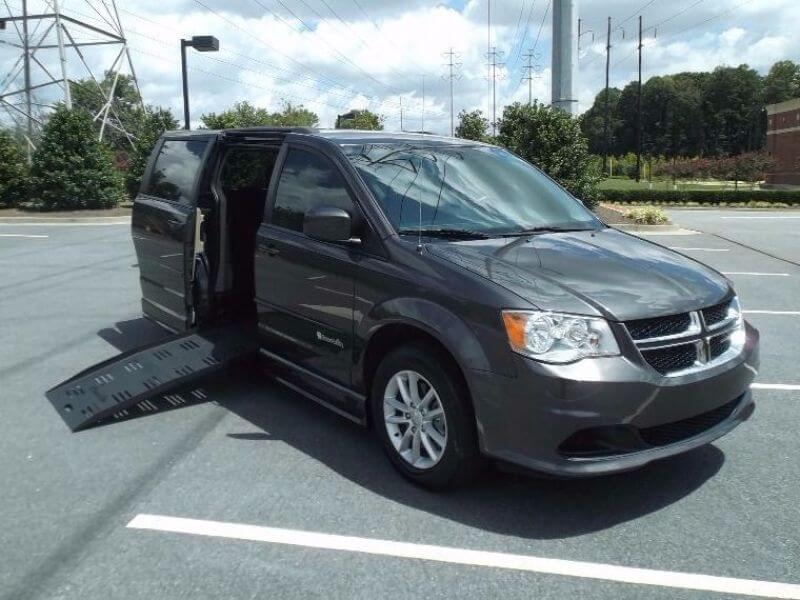 Find your perfect Wheelchair Van
Select from thousands of wheelchair vans for sale from hundreds of nationwide dealers
The Mobility Resource has one of the largest selections of Dodge, Toyota, Chrysler, Honda, Ford, Chevrolet wheelchair vans
View All Wheelchair Vans