One of the most innovative wheelchair-to-vehicle transfer devices on the market.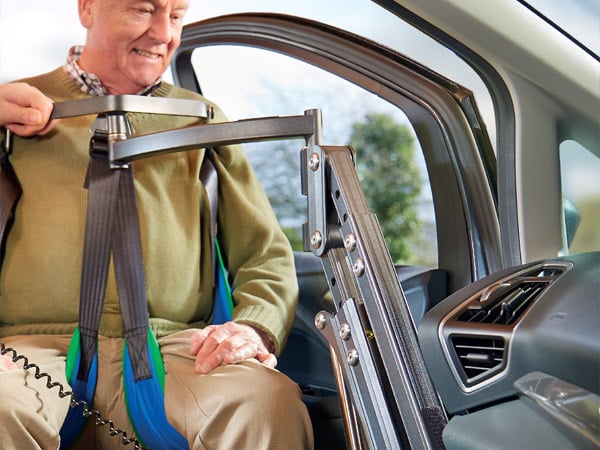 Photo courtesy of Mobility Innovations.
Capable of lifting up to 330 pounds, the Milford Person Lift is designed to smoothly transfer users from a wheelchair directly to a standard car seat. The Milford is a strong yet lightweight powered mechanical device that uses a sling and remote control to lift the person from their wheelchair and then gently lower them into the vehicle. After being transferred, the lift is easily detached and then stowed in the rear baggage area or trunk.
What Are the Benefits of the Milford Person Lift?
The Milford is able to be fitted into a wide range of vehicle types, which means families can keep using their current automobile and can avoid buying an expensive new vehicle. Even if your family does end up buying a new vehicle in the future, the Milford is easily transferrable from one vehicle to the next.
The Milford Person Lift is being utilized worldwide in minivans, SUVs, full-size vans, crossovers, and sedans. It can also be used with multiple vehicles that are equipped with the same type of attachment base and Milford power supply. It can also be also used with a SmartBase or Wall Bracket for inside a home, office, or hotel.
Additional benefits include:
Two-button operation
Wide range of sling options to accommodate different body types
Easy-to-use for the caregiver and wheelchair user
Emergency switch for additional peace of mind
Learn more about the Milford Person Lift, developed by Mobility Innovations.
Check Out the Milford in Action!
Does the Milford Work with Wheelchair-Accessible Vans?
The Milford Person Lift is able to be used amongst many vehicle types, which includes wheelchair-accessible vans. However, one of the main benefits of the Milford is that it doesn't require a handicap van in order to be used, unlike other transfer seat solutions.
Both the Milford and a wheelchair van are acceptable ways for wheelchair users to travel safely, and the one that you choose should be based on your unique needs. If your family is looking for a new accessible van, explore our nationwide network of wheelchair vans for sale from trusted dealers to find your next vehicle.