Mobility Innovations Transfer Lift is Compatible with Nearly Every Type of Vehicle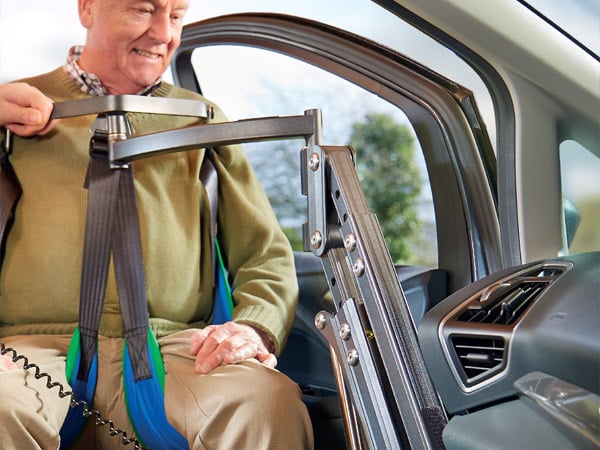 Capable of lifting up to 330 lb, the Milford Person Lift is designed to smoothly transfer users from a wheelchair directly to a standard car seat. The Milford is a powered mechanical device that uses a sling and remote control to lift the person from their wheelchair and then gently lower them into the vehicle. After being transferred, the lift is easily detached and then stowed in the rear baggage area or trunk.
With this solution, families can keep using their current automobile — and users can sit in the front or rear of the vehicle with other travelling companions. The Milford Person Lift is being utilized worldwide in minivans, SUVs, full-size vans, crossovers and sedans. It can also be used with multiple vehicles that are equipped with the same type of attachment base and Milford power supply. It can also be also used with a SmartBase or Wall Bracket for inside a home, office or hotel.
Learn more about Mobility Innovations and the Milford Person Lift
Mobility Innovations Milford Person Lift Video
Milford Person Lift Wall Bracket for In-Home Installations
The Milford Wall Bracket is a great solution to transfer an individual from their wheelchair to areas in the home where space is limited, such as a small bathroom or stair landing. The Wall Bracket securely attaches to a load-bearing wall and even allows the Milford Person Lift to work around corners. The compact design also ensures that it is neatly out of the way when not in use.
Photo courtesy of Mobility Innovations.