Does Medicaid Cover Non-Emergency Medical Transportation?
Transportation to doctor appointments is not generally covered by original Medicare health insurance (Part A and Part B). However, some Medicare Advantage plans may cover transportation to doctor appointments. Medicaid, on the other hand, covers both emergency and non-emergency transportation for eligible individuals to and from the doctor's appointments, the hospital, or other types of medical offices for Medicaid-approved care only. This coverage is called non-emergency medical transportation, or NEMT, because it does not involve a medical emergency.
NEMT rides can be administered in a variety of vehicle types. One of the most popular options is a wheelchair van, which is typically fitted with commercialized conversions such as a wheelchair lift or ramp that meets certain ADA requirements for accessibility. The ride service is approved by the State's Medicaid program and their drivers are also trained in the proper use of the specialty equipment installed to ensure the safety of the wheelchair passengers and any other riders in the vehicle, such as a caregiver.  
Medicaid coverage for these rides may be different depending on your individual situation and needs. You may also need to get your State Medicaid agency's approval to qualify for a ride. Generally, if you are enrolled in a Medicaid managed care plan, the customer service staff can also give you facts about ride benefits.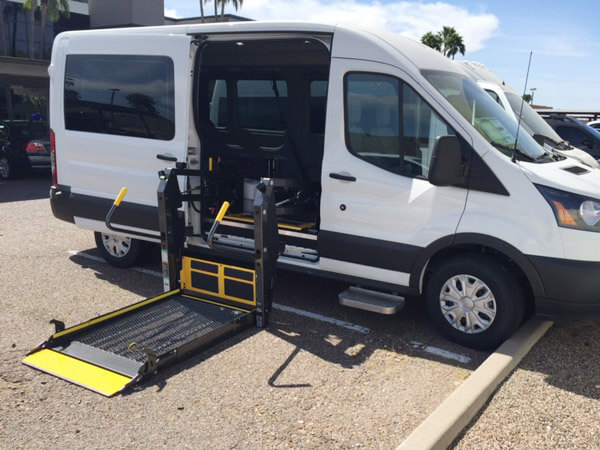 Scheduling Your Ride
Depending on your needs and your State's rules, rides might be by taxi, car, commercial wheelchair van, or a form of public transportation. Typically, you will have to call and set up your ride in advance. It's important to know that the driver can only give you (and an eligible family member) a ride to your medical appointment and back home.
Being On Time
Medicaid might not pay for the time a driver waits for you to arrive or if you do not show up for a planned pickup. In some states, there may be limits as to how long a driver can wait for you if you are ready when they arrive.