Magazines in Print and Online Designed to Help and Inspire
Discovering relevant, uplifting information about how others thrive with a specific physical challenge or disease can encourage people and their caregivers to keep moving forward. Fortunately, there a few quality magazines and online publications that are written with the specific purpose of doing just that. Some of those we often turn to for information are included in the following reviews. Many of these magazines (in print and online) also have resource directories with help for finding everything from a local support group to specialized adaptive equipment. Let's take a look at a few of the more prominent publications and whether or not they might be helpful to you.
ABILITY Magazine
ABILITY Magazine covers the latest on health, environmental protection, assistive technology, employment, sports, the arts, travel, universal design, mental wellness—and much more. Many of their stories include celebrities, writers, musicians and artists that you didn't know had a disability. The magazine provides a positive, cross-cultural experience showcasing the diversity and accomplishments of persons with all types of disabilities. They strive to change the public perception of what it means to have a disability by focusing on ability and to shatter the myths and stereotypes that surround disabilities. Learn more about ABILITY Magazine.
Exceptional Parent and EParent.com
Exceptional Parent Magazine and eParent.com is a multi-media company dedicated to be the ultimate resource for everything related to the special needs community. It aims to provide practical advice, emotional support, current trending news and educational information that empower caregivers and families of children and adults with disabilities and special healthcare needs. eParent.com uses a multi-media approach to disseminate information and connect to a diverse and passionate special needs community of families, caregivers, professionals and organizations Its Special Needs Resource Directory links readers to organizations and entities matching their needs, interests and location. Visit Exceptional Parent.
InMotion Magazine
InMotion magazine, published by the Amputee Coalition, provides unbiased journalism that seeks to "empower and motivate" living well and thriving with limb loss. The magazine targets amputees and their families and is provided free electronically to all friends of the Amputee Coalition and in hard copy to all subscribers. Each issue covers health, well-being, exercise, life issues and advocacy for amputees and their families. Stories showcase amputees living and thriving with limb loss and profile Amputee Coalition programs and their services. Learn more about InMotion magazine.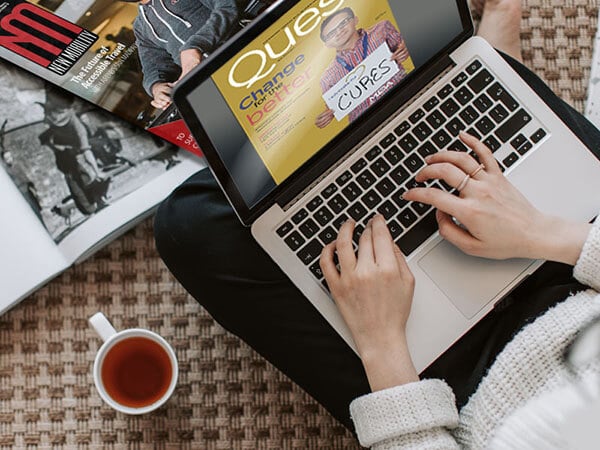 Momentum Magazine (MS Society)
Momentum Magazine is a publication of The National Multiple Sclerosis Society. Momentum features stories of people living with MS, consumer issues, news of advances in MS research, reports on MS activism and expert opinions from MS specialists. Momentum is dedicated to providing reliable, comprehensive and timely information on all aspects of multiple sclerosis. The 80-page quarterly is available in print, online and through their mobile app. The National MS Society mobilizes people and resources so that everyone affected by multiple sclerosis can live their best lives as we stop MS in its tracks, restore what has been lost and end MS forever. Learn more about Momentum here.
Move United
Since 1956, Move United has focused on one goal: To improve the lives of wounded warriors, youth and adults with disabilities by providing sports and recreation opportunities. Disabilities include those with visual impairments, amputations, spinal cord injury, multiple sclerosis, head injury, cerebral palsy, other neuromuscular/orthopedic conditions, autism and related intellectual disabilities.
Move United's mission is to provide opportunities for individuals with disabilities to develop independence, confidence, and fitness through participation in community sports, competition, recreation, high performance sport and educational programs. Move United Magazine, formerly known as Challenge Magazine, is published three times a year and read by an estimated 70,000 readers. Read more about Move United here.
New Mobility
New Mobility's tagline is "the magazine for active wheelchair users". It was launched in 1989 to bring quality journalism to a community of wheelchair users who wanted more information on how to lead active, healthy lives – and were willing to speak openly about their feelings and personal experiences. Seasoned writers, many with disabilities, produce a unique monthly magazine (in print and online) that shatters stereotypes by telling real stories of living life on wheels. New Mobility also has informative articles on new accessible vans adaptive equipment. Acquired in 2010 by the United Spinal Association New Mobility remains an independent, editorial voice and continues to be recognized as the premier wheelchair lifestyle publication in the world. Visit New Mobility Magazine.
PN Online
PN Magazine and PN Online, originally known as Paraplegia News, is an invaluable resource for people with spinal-cord injuries, family members and caregivers. Published by Paralyzed Veterans of America, PN focuses much of its content on veterans living with a spinal-cord injury by producing insightful, inspiring articles about technology, public awareness, and general perceptions concerning people with disabilities. Its website states that the magazine "embodies the power of the spirit, the professional contributions to society, the personal story within each person, the practical resolve to carry on, and even the playful nature of the soul." Aimed toward helping its readers to achieve better wheelchair living, PN Magazine is published monthly in print and online. There is also a PN app for Android and IOS devices. Learn more a PN Magazine.
QUEST (MDA)
QUEST Magazine, published by the Muscular Dystrophy Association (MDA), produces insightful articles raising awareness about how muscular dystrophy, ALS and other related neuromuscular diseases impact individuals and their families. The magazine covers topics ranging from daily living and education to parenting and technology. QUEST is a quarterly publication, in addition to a monthly e-Newsletter. Visit QUEST here and the MDA here.
SPORTS 'N SPOKES
Sports 'N Spokes wants to get you closer to the stories and people that matter. Since 1975, the magazine has been the world's best source for wheelchair sports and recreation that captivates, informs and entertains a global community of athletes, enthusiasts, organizations, caregivers and more. The magazine and online website published by the Paralyzed Veterans of America provides a platform where all athletes and outdoor enthusiasts can demonstrate their athletic abilities and accessible adventures to an audience of like-minded individuals. Learn more about Sports 'N Spokes.
Stroke Connection® E-News
Stroke Connection is published by the American Stroke Association as e-news monthly publication. It delivers news, resources and stories for stroke survivors and their caregivers. They believe it's important to shine a spotlight on stroke survivors and caregivers because they can inspire and help fellow survivors through their journeys, and help other people understand what it's like to recover from stroke. Learn more about Stroke Connection.
Let us know of any other publications that should be included in our review. Please forward any information to news@themobilityresource.com.