Comic strip creator Jewel Kats introduced her and her funnies to The Mobility Resource's accessible vehicle audience April 16th with her guest post "DitzAbled Princess: Sparking a Revolution for Women with Disabilities," but today we go beyond and take a closer look at the DitzAbled Princess revolution. The Mobility Resource recently interviewed, separately, both Jewel Kats and illustrator Katarina Andriopoulos, asking the tough questions. For instance, "'Ditz' tends to carry a negative cognition. Would you consider yourself a 'ditz' Jewel or is the comic strip's title just a play on words?"
First Though, Some Background
Before examining Kats' answer to that question, let's explore her story. Born able-bodied, a car accident at nine-years-old led to her disabilities. Kats ended up enduring eight surgeries on her right leg and one operation on her left leg. She lives with osteopenia, arthritis and bowel issues. Physical challenges however do not claim exclusivity over adversity in her life. This became evident when asked what attracts Kats to comic strips.
"In the past I've dealt with sexual abuse, anorexia, and depression," said Katz. "The way I learned to cope and overcome and recover was through comic strips ironically. I mean whenever I was at my lowest point I would read Archie Comics, especially Betty and Veronica Double Digest. I turned to them because they were my escape and they always had a happy ending."
She continued, "That speaks to what I hope to do with my comic, to help people and use it as a vehicle to escape, enjoy life and see the lighter side of things." Still, while DitzAbled Princess maintains a light-hearted nature the comic does contain some serious intentions. Kats emphasizes the revolutionary element incorporated within her work. "It's not just a comic strip. It's a revolution. I am going to change the way people see women with disabilities through this work."
The Revolution
One aspect Jewel Kats aims to address, as mentioned in her April 16th post, is sex appeal. During our interview Kats commented further on the issue. "Just because people with disabilities aren't found in a toy box like Barbie doesn't mean we can't be attractive. We can be attractive. We can be empowered. We can be sexy and it's about time somebody put it into print."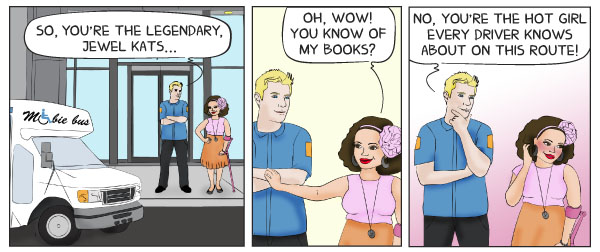 Now Kats does not need to search far to find an abled-bodied person who she influenced. Illustrator Katarina Andriopoulos lives without disabilities. When asked how illustrating DitzAbled Princess affects her perceptions on women with disabilities, Andriopoulos responded, "It opens up my eyes to how just because you have a certain kind of disability doesn't mean you can't be successful in life, relationships, have your own personality, be kind of sassy, sexy and those kinds of things."
Such a lesson extends beyond physical disabilities too, something evident when Andriopoulos talked about her sister Margarita. "My sister has a learning disability. While she was growing up she had a stigma around her. Other people really didn't know or understand that she had a learning disability." Yet like Kats, Margarita persevered. "She herself is now putting herself through college because she applied herself in her studies. So it shows just because people think that your disability can bring you down that you can work with it to your advantage."
Embracing Your Disability and Personality
Kat Andriopoulos observes a common characteristic between her sister Margarita and Kats which set each up towards success, the willingness to embrace their disabilities. "She (Margarita) embraces it. She will talk to you about it and she'll let you know about her struggles, so will Jewel. She is not trying to hide it. They are both similar in that way. They don't try to hide their disabilities."
Jewel Kats really steps up to embrace all parts to her personality, apparent by the comic's title "DitzAbled Princess." She addressed the negative cognition surrounding the word 'ditz' and whether or not she might label herself one saying, "Firstly it's a play on words obviously. Secondly the title, it's something that's supposed to be comical right? And I thought it fit me–and it does fit my personality."
She added "People do tend to say I can be a bit of a bubblehead and ditzy. I'm smart in my own ways but yeah, there are times that I am ditzy and I just thought the name was cute. People really liked it so I decided to keep it."
New DitzAbled Princess comic strips come out every Wednesday and Sunday online at www.tapastic.com/series/316. Long term goals wise Kats and Andriopoulos plan to keep building their presence online. Since the comic strip's launch in mid-February DitzAbled Princess racked up 140000 plus web views. Those who prefer reading print publications can check out DitzAbled Princess via the book DitzAbled Princess: A Comical Diary. For more information on DitzAbled Princess, go to www.ditzabledprincess.com.
To learn more about Jewel Kats, who also writes children's books featuring heroines with disabilities, visit www.jewelkats.com. If you want to know more about Kat Andriopoulos and her graphic arts work, see www.katarinasportfolio.com.
Finally remember to embrace all quirks your disability may bring, from your new wheelchair accessible vehicle to any intriguing disability related personality traits.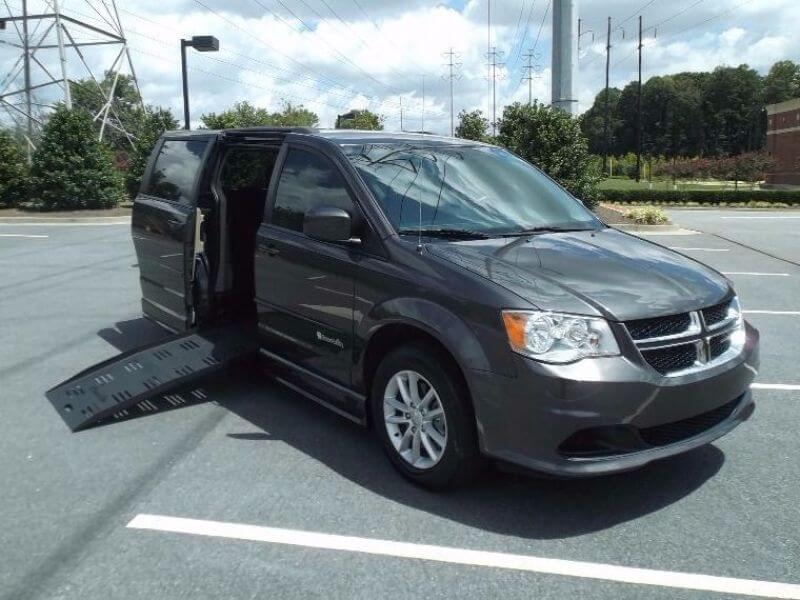 Find your perfect Wheelchair Van
Select from thousands of wheelchair vans for sale from hundreds of nationwide dealers
The Mobility Resource has one of the largest selections of Dodge, Toyota, Chrysler, Honda, Ford, Chevrolet wheelchair vans
View All Wheelchair Vans