Real, thought provoking and honest describe author Rob J. Quinn's I'm Not Here to Inspire You: Essays on disability from a regular guy living with cerebral palsy.
All but one essay were previously published on Quinn's blog Rob Q. Ink Page 2. After reading the book, I enjoyed the opportunity to delve deeper into the thought-provoking material by interviewing Quinn.
Honesty remained important for Quinn because he wants to establish a reality check about disabilities.
"As I say in at least one of the essays, the mainstream media clearly views people with disabilities as little more than a source of a sappy inspirational story now and then," he said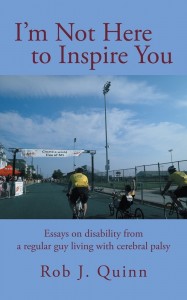 Quinn emphasized his point by recalling "The first article about the book that appeared in the media actually ran with the headline, 'Author's book is inspiring.' Now, I certainly appreciated the press for the book and it has sold a few copies, but it kind of made me just shake my head."
Another demonstration on how society perceives disabilities revolves around Quinn's title I'm Not Here to Inspire You. Said the author "I've had a few people with disabilities say they love the title, and I've had several able-bodied people say or post on Facebook something to the effect of, 'He's not here to inspire you… but he will.'"
With a smile, he added, "I try not to hurl. My hope is that people read the book and start to realize that we need to get beyond being inspired that some guy in a wheelchair goes to the gym." Considering these responses though, one might wonder does I'm Not Here to Inspire You fail to accomplish Quinn's goal?
Because I'm a reader with a disability, I can't answer that question. How could I venture a guess at what goes on inside an able-bodied individual's mind? Yet I can offer my reflection as Quinn's peer in the disability community.
Earlier, I called I'm Not Here to Inspire You real, thought-provoking and honest. No essay in the book projects the reality and honesty better than "From the Heart, About the Heart." In this selection, Quinn speaks about his very limited dating experience and ponders hiring a prostitute to experience sex. It was so personal, Quinn shared that he almost pulled the essay.
"All along I felt it was a good message and hoped (and still hope) it will help some young people struggling with the issues discussed. But, I guess the guy in me started to panic a bit."
Noting "From the Heart, About the Heart" was the only published "Rob Q. Ink Page 2" post to not receive a comment on the blog, Quinn conjectured, "I actually think the lack of response on the blog is an example of how difficult it is for our community to discuss the topic of relationships and sex."
I'm Not Here to Inspire You's thought-provoking nature covers several disability-related topics, for instance, politically correct terminology and inclusive classrooms. While I don't agree with everything Quinn says, I still found the read compelling.
Overall I recommend I'm Not Here to Inspire You: Essays on disability from a regular guy living with cerebral palsy. To learn where you can purchase Quinn's book, visit www.robjquinn.blogspot.com.
Find your perfect Wheelchair Van
Select from thousands of wheelchair vans for sale from hundreds of nationwide dealers
The Mobility Resource has one of the largest selections of Dodge, Toyota, Chrysler, Honda, Ford, Chevrolet wheelchair vans
View All Wheelchair Vans