DitzAbled Princess: Sparking a Revolution for Women with Disabilities
It's a comic strip.
It also happens to be revolutionary.
"Ha, ha," you may chuckle.
How can doodled thoughts written on candy wrappers then later coupled with bright illustrations change society? Simple. This comic strip encompasses the real-life experiences of a woman. She's a 30-something "babe" with disabilities. She's confident. She's sassy. She's making her mark. That illustrated woman isn't the figment of someone's imagination. "DitzAbled Princess" is real. She's actually me.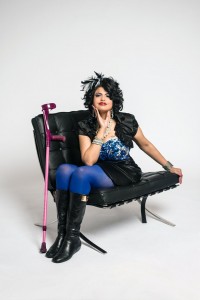 When you look at my exterior, the first thing you'll notice is my visible disability. It's in-your-face. You can't ignore my hot pink elbow crutch. At other times, you can't ignore my wheels. My disabilities aren't a choice for me. Why should they be for you? Accept them or leave them, my show will go on.
I'm not a hero. I'm not a pity case. I just do things differently. I sit pretty more often than I walk. Physical pain is part of my existence. Bowel issues are a permanent quirk. However, don't let my limitations fool you. I will kick your butt to succeed. Even if that means working on my bed day-and-night because I can no longer sit at a desk. Regardless, of my surroundings or circumstances, my brain is a killer machine. I won't let you forget that.
It's rare to hear people speak of themselves this way. It's almost like having a high self-esteem is shameful. Women with disabilities are especially not to make such bold statements. I beg to ask: WHY NOT?
The woman depicted in "DitzAbled Princess" is fashionable, has a career in the media, is married to a man who's ga-ga over her and she's spoiled silly by her family. However, her life isn't perfect. Her bratty dog wears diapers. She's got spending issues when it comes to shopping. She has a pushy book editor. But that's life–my life.
Like the "DitzAbled Princess," my disabilities enhance who I am. They don't detract from me. I'm the woman you'll long remember. For it's hard to forget charm wrapped in confidence.
I've purposely sexualized "DitzAbled Princess." She knows how to make her husband blush. She wears funky clothes that show off her ample curves. This is how the role of a revolutionary comic strip comes into play. Never before—and I don't understand why it took so long—has a real-life woman with disabilities been an object of desire.
This statement of late may upset some feminists. But, I won't back down. Rather, I'll argue that women with disabilities have been brushed under the carpet for too long. Disabilities are often equated with repulsion by the ignorant. "DitzAbled Princess" won't hear of it. Neither will I.
Women with disabilities can uphold the whole "ideal" package. Think: Good looks. Think: Razor-sharp brains. Think: Thriving careers. Think: Bubbly personalities. We may not be found in a shiny toy box like Barbie, but that doesn't mean we don't exist. It's just that society has chosen to ignore and shove us aside. However, "DitzAbled Princess" won't let that happen.
The support "DitzAbled Princess" has received is overwhelming. In a little over a month, more than 4,000 people have logged onto Tapastic.com to read this twice-weekly produced web comic. Now, there's even a comic collector's book ("DitzAbled Princess: A Comical Diary") by Marvelous Spirit Press. This highlights the public's craving for such work.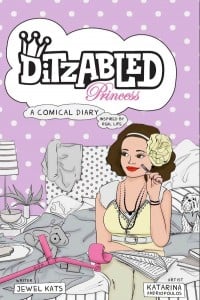 If my dreams are to become reality, "DitzAbled Princess" will flourish into a household name. Both able-bodied and people with disabilities will turn to this comic strip for a laugh or to partake in an illustrated snapshot of what we call a "slice of life."
An additional interesting dynamic of this comic strip, is that the illustrator helping to spearhead this revolution is able-bodied herself. Yet, Katarina Andriopoulos is fuelled with equal passion for this movement brought on by "DitzAbled Princess." Time-and-time again, Andriopoulos puts herself in the character's designer ballet flats to create a reality ignored by mainstream society. And, she does it exceedingly well.
So, the next time someone sees me writing on candy wrappers they'll know what I'm up to. I'm creating a revolution for women with disabilities one laugh at a time. Least we not forget, humor is a powerful weapon of choice.
Find your perfect Wheelchair Van
Select from thousands of wheelchair vans for sale from hundreds of nationwide dealers
The Mobility Resource has one of the largest selections of Dodge, Toyota, Chrysler, Honda, Ford, Chevrolet wheelchair vans
View All Wheelchair Vans