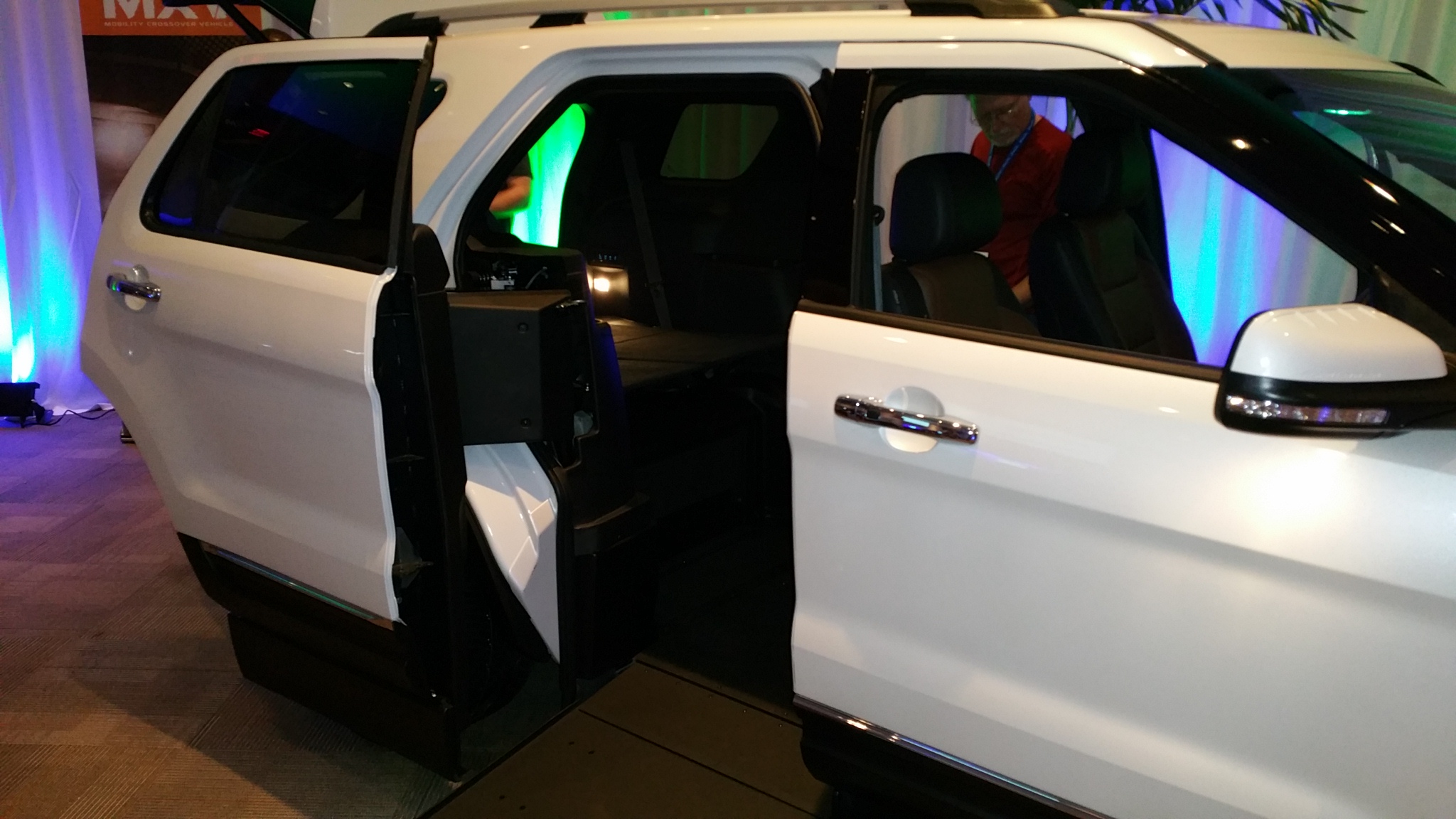 What kind of an accessible vehicle are you looking for?
Deciding on a wheelchair van is a large investment, and you will want to consider your short-term and long-term needs. Handicap vans come in all shapes and sizes, and the one that fits your needs may be based on mobility devices such as a motor or manual wheelchair, vehicle features such as hand controls, or who will be the primary driver.
Before you make a final decision on what you're looking for, take time to decide what your needs are, talk to other families using an accessible vehicle, and speak with your local dealer.
When searching for an wheelchair van, you may not know what type of vehicle you may need. Accessible vehicles may be a full-size van, a converted mini-van, or built from the ground up. Folding ramps may retract from the side, back, or from the floor of the vehicle.
Below is a quick comparison between accessible vehicle conversion types:
Side-Entry (most popular)
Side-entry conversions allow for access from the side doors of a wheelchair van. Typically, the floor of the van is lowered allowing for more headspace for fitting wheelchairs. Side-entry vans usually house foldout ramps and lifts or an in-floor ramp. Another popular option is a center cut conversion.
Benefits:
Side-entry vans tend to be easier for curbside access for picking up/dropping off passengers.
Side-entry vehicles usually have seats that can be removed, providing options for the wheelchair user to either ride in the passenger seat or drive the vehicle.
Considerations:
Over 75% of non-commercial wheelchair accessible vehicles utilize a side-entry configuration.
Additional room is needed to deploy the ramp. These types of vans most often require handicap spaces or driveways wide enough to accommodate the van.
The middle or second row of the van will need to be removed to account for the conversion. This can be problematic in the event that the vehicle is used to transport additional passengers who aren't wheelchair users.
There may be a reduction of space in the vehicle, due to the wheelchair being larger than average, or if the wheelchair user seats themselves higher in their wheelchair.
Popular Models: See available vans on our website
Dodge Caravan
Chrysler Town & Country
Toyota Sienna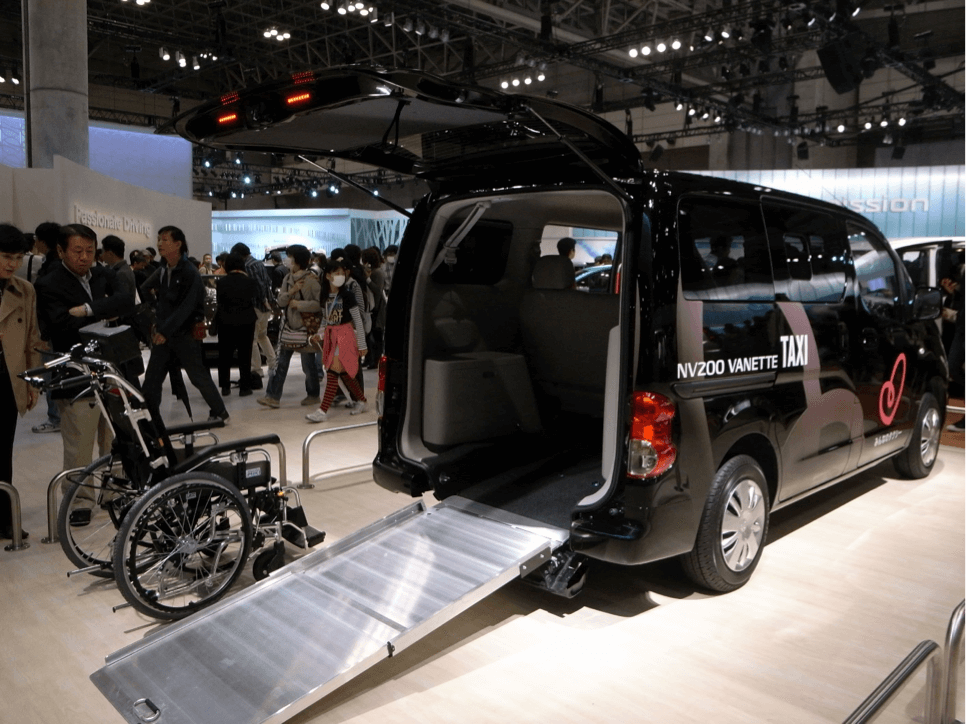 Rear-Entry
Rear-entry conversions feature a foldout ramp with a lowered center area in the van designed for a motor or manual wheelchair entry.
Benefits:
No additional room is needed for a ramp.
Side doors do not have to be blocked if a folding style ramp is utilized.
This conversion requires less modification of the van, and side/middle seats can remain intact for additional passengers.
This configuration can be used for wheelchair users who are not the driver, but the passenger of the vehicle, such as a young child.
Considerations:
Due to the rear-entry floor being lowered either behind the middle seat or driver/passenger seats, the wheelchair occupant cannot operate the vehicle or sit in the passenger seat. Only if the wheelchair user can be moved into the driver or passenger's seat can the factory seats be used.
Parallel parking can be challenging due to the access needed behind the vehicle.
Non-Minivan Wheelchair Vehicles
Mini-vans are not the only options for wheelchair accessible vehicles. Trucks, full-size vans, SUVs and vehicles built from the ground up are other options.
Ramp types
In-Floor: The wheelchair ramp is stowed in the floor of the van, creating more interior room. The ramp helps to keep the inside of the vehicle clean.
Benefits:
When not being used, they are stored alongside the door of the van. Entering and exiting is easier for non-wheelchair users.
When stowed, they are not seen.
If there is uneven terrain, in-floor ramps are easy to use.
Considerations:
The angle of in-floor ramps is higher than fold-out ramps, making entering/exiting slightly more difficult.
Because of its location in the floor, it may require more maintenance and cleaning.
Fold-Up: These ramps foldsout when extended and rests next to the sliding door when they are not being used.
Benefits:
A wheelchair user can assist the folding out of the ramp if there is need for it.
Due to the perforations in the ramp allowing gravel and dirt to fall through, less maintenance is required.
Many users state the lower angle is preferential.
Considerations: 
Because of the fold, rough terrain may hinder the folding out.
The seat in front of a fold-out ramp cannot recline when the ramp is not being used.
When non-wheelchair users need to enter and exit, the ramp still needs to be deployed.
Manual vs. Automatic Ramps
Manual: Since there are less moving parts, these usually cost less to install and maintain. However, they are usually used when an attendant is present in order to assist, and a wheelchair user may not be able to operate the ramp while seated in their wheelchair.
Automatic: While convenient for those that do not have an attendant, automatic ramps could cost more and require additional maintenance.
Adaptive Driving Equipment
Hand controls provide assistance to users with limited foot control.
Swivel seating allows for a drivers seat to lower to outside of the vehicle, giving a driver accessibility to the front seat.
Researching what options fit your mobility needs will enhance your independence when need to get from here to there in your community.
Contact your local accessibility vehicle dealer to see which option will best meet your needs.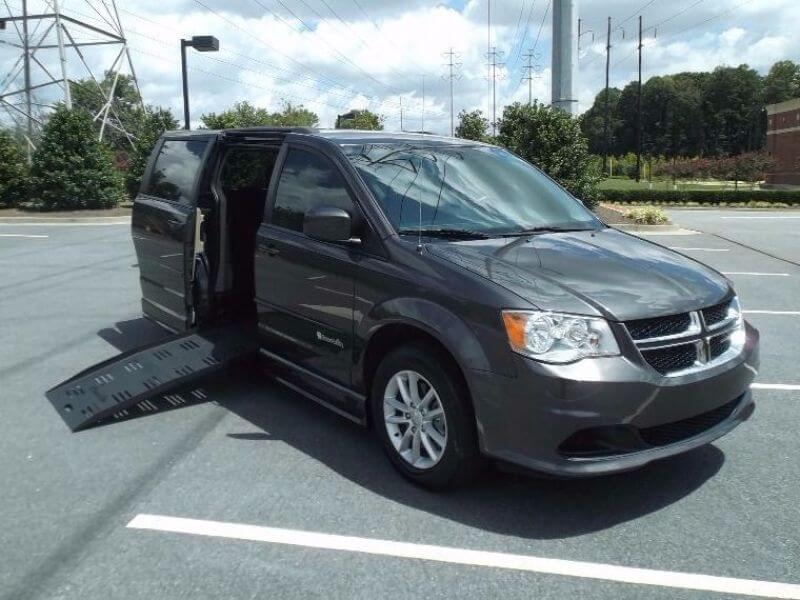 Find your perfect Wheelchair Van
Select from thousands of wheelchair vans for sale from hundreds of nationwide dealers
The Mobility Resource has one of the largest selections of Dodge, Toyota, Chrysler, Honda, Ford, Chevrolet wheelchair vans
View All Wheelchair Vans