I'm a girl.  And like a lot of girls in their 20s, I like to feel pretty.  You wouldn't really know it by looking at me, though – my standard uniform is a pair of jeans and a t-shirt, maybe a pullover or zip up sweatshirt in the winter.  In the summer, you can always find a pair of Crocs on my feet; in the winter, a pair of UGG or EMU boots.
The ways I outwardly display my femininity are directly impacted by my physical disability.  And sometimes, wanting to be more traditionally feminine clashes with what I can physically do.  Here are five ways that my disability clashes with my femininity: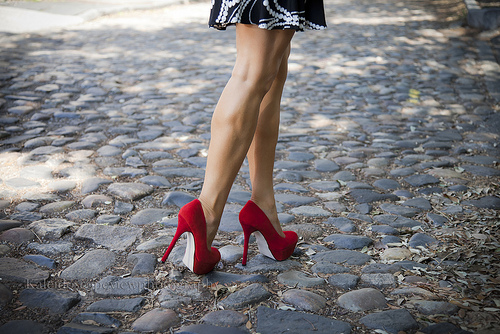 1) Shoes.
Shoes.  The bane of every girl's existence.  The fact that I can't tie my own laces alone throws a monkey wrench into the shoe situation.  Therefore, my shoe options are limited to velcro and slip-ons.  But wait!  What if I wanted to throw on some heels to elongate my petite, five foot frame?  Sorry, no can do.  I topple over when I'm not wearing any shoes at all, heels would be a nightmare.  With practice and sheer willpower, I've learned to be able to manage in small wedge heels, but I hardly ever wear them – I'd rather be able to stay on my feet than look nice.
2) Dresses and skirts.
Because I have high muscle tone in my legs, I have trouble sitting properly.  When I'm wearing a dress or skirt, this problem becomes readily apparent, as unsuspecting people might get a free showing of my undergarments.  I circumvent this problem by wearing leggings under a skirt or dress but even that doesn't happen very often, as putting on clothes is energy-consuming in the first place without complicating the matter.
3)  Makeup.
I'm always a little in awe of girls who spend hours in front of their mirror, plucking and poking and shading, getting their makeup just right.  Most makeup, frankly, scares me.  With my poor fine motor skills, I'd just as likely accidentally poke my eye out as achieve the perfect "smokey eye" look.  The most I'll ever wear is a little bit of lip gloss, easily put on and just as easily taken off.  I don't mind too much, though – it makes compliments sweeter when you know that people appreciate your natural beauty.
4) Nail polish.
Admittedly, I love a good manicure and pedicure.  Just not done by myself.  If a nail polish bottle exploded on my hands, that's what my home manicure would look like.  I have managed to accomplish it once or twice, but it takes a lot of time and a lot of energy.  Instead, I splurge every once in awhile on a professional mani/pedi.  Some places will even throw in a free shoulder massage, which feels heavenly to my spastic muscles.
5) Hair.  Just.  Hair.
People keep nagging at me to grow my hair out.  My answer is always no.  Why?  Because it's too hard to take care of with my impaired coordination.  I wasn't able to wash my own hair until I was well into my teen years.  It's a piece of independence that was hard-won and that I'd like to keep.  Shorter hair means less to wash and less hair to look greasy on the days when I have more trouble with the shampoo and conditioner than others.   Similarly, shorter hair is easier to style.  There's less hair to knot up and get messy, and less hair to yank through with a brush.  I don't have to worry about twirling my hair into an acceptable style – I just brush it and go.  Sometimes I'll pull it back in a ponytail or put on a headband.  In fact, I may have invented a new hairstyle – the palsy style.
So I can't often express my femininity in traditional ways, but that's okay.  I've found ways of expressing myself and my personality that don't rely on my clothes or my nails or my hair.  This mainly consists of brightly colored mobility aids and chic 3E Love sweatshirts.  It's my own personal fashion sense and I like it.
What are some ways you express your style when you have a disability?
 Photo credit: Flickr user Kaleidoscope View Photography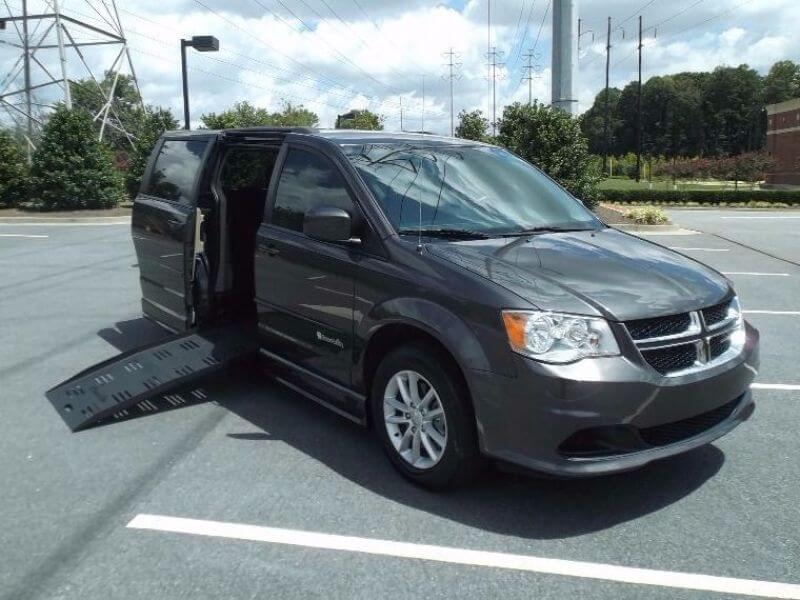 Find your perfect Wheelchair Van
Select from thousands of wheelchair vans for sale from hundreds of nationwide dealers
The Mobility Resource has one of the largest selections of Dodge, Toyota, Chrysler, Honda, Ford, Chevrolet wheelchair vans
View All Wheelchair Vans