LOOK: BraunAbility and West Coast Customs Unveil Concept SUV for Wounded Warrior
With its sliding double-door driver entry, military-inspired custom camouflage paint and the automatic raising and lowering of the body – the concept mobility SUV unveiled by BraunAbility and West Coast Customs is not your typical wheelchair accessible vehicle.
And that is exactly what reality television's West Coast Customs and accessible vehicle manufacturer BraunAbility wanted.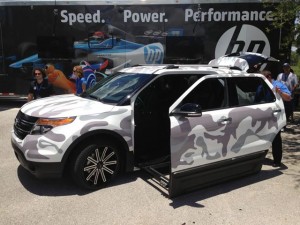 With the turning over of the tricked out Ford Explorer's keys to Wounded Warrior Lance Corporal Mike DeLancey as part of a reveal event filmed by West Coast Customs, BraunAbility hopes to open the door to a new era of innovation in accessible vehicles
"There is a whole new mobility market emerging," said Kevin McMahon, Executive Vice President of Sales and Marketing at BraunAbility. "This vehicle was originally built in tribute to Americans like Lance Corporal Mike Delancey who have served our country, but it's also a revolutionary concept. We hope it will change how people everywhere think about mobility transportation."
Surrounded by fellow Wounded Warriors and veterans, VA and government officials, his family and friends, Lance Corporal Mike DeLancey was overwhelmed when he saw the converted Ford Explorer for the first time at the reveal event held at Custom Mobility in Largo. DeLancey – a Pinellas Park native and ambassador for Wounded Warrior Project – has dedicated his time to helping disabled veterans since a sniper's bullet to his spine took away his ability to walk in 2006.
"It's just incredible, it blows my mind," said DeLancey. "This vehicle shows exactly what I tell the guys coming back from war with critical injuries: just because you've been injured doesn't mean you have to change or settle for something that's not you."
Schmidt Hamilton Motorsports and HP helped fund the concept car more than a year in the making. Presented by West Coast Customs host Ryan Friedlinghaus, the SUV includes the following special features:
Accessible driver's area to allow for easy entry and exit
Door opens automatically, exposing a wheelchair platform surface
Vehicle automatically lowers for wheelchair access and then raises to normal driving position
Custom wheelchair complete with an HP Elite Pad 9000
42 inch widescreen LCD monitor for tailgating
22" Gloss black brushed accent wheels
The SUV will be highlighted on a West Coast Customs show this fall on Fox Sports.
Friedlinghaus, owner of West Coast Customs, noted the importance of the shop's work for the Wounded Warrior Project. "We have worked on hundreds of vehicles over the years, but this project is one of the most important our shop has ever done because it could help change the lives for thousands of American heroes."
Sam Schmidt, co-owner of Schmidt Hamilton Motorsportssaid, "BraunAbility and our sponsors sought out West Coast Customs because we wanted to radically change how people think about mobility vehicles. This fantastic mobility concept SUV is a mission accomplished."
BraunAbility, based in Indiana, has not set an exact timetable for a production model. "We are not going to rush this. It is too important for the industry and it is too important for our customers that are calling for a combination of style and function," said McMahon.
Find your perfect Wheelchair Van
Select from thousands of wheelchair vans for sale from hundreds of nationwide dealers
The Mobility Resource has one of the largest selections of Dodge, Toyota, Chrysler, Honda, Ford, Chevrolet wheelchair vans
View All Wheelchair Vans