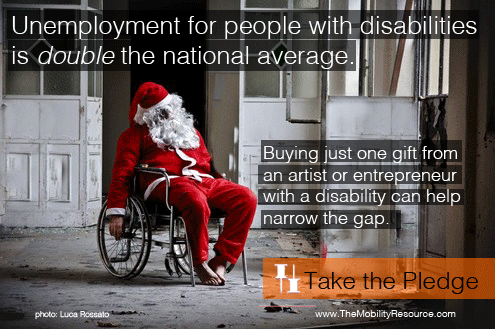 When you search in Google, you'll find thousands of articles on "Christmas Gifts to Buy for the Disabled," but no one talks about what the disabled population can provide for you.
Well, this Christmas season The Mobility Resource will explore gifts that you can purchase from entrepreneurs and artists who have a disability.  Some of these vendors are offering exclusive discounts, as well.
1. Movie Posters
James Denny's lifelong love of movies has led to a career as a lecturer on film, as well as an online business called Movie Posters Etc.–all while living with a visual disability.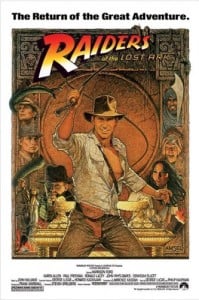 When Denny was a child, a family friend worked at the Yorktown Theater in Cleveland and would let Denny in for free.
"Later, my sister and I worked there. I got to see Raiders of the Lost Ark five times," he recalled.
Instead of throwing away the movie posters, Denny brought them home and stored them.  Then the internet gave birth to entrepreneurs and he started selling them on the Internet in 2002. Today, he owns the site with three of his friends as his business partners.
His customers can pick up posters of cinematic icons like Marilyn Monroe and James Dean as well as modern favorites like The Big Bang Theory and The Dark Knight Rises.
In addition to movie and TV posters, the site sells action figures, music posters and art posters.
Denny is legally blind due to a hereditary condition called optic atrophy.
"It's not my eyes, but the nerves that don't give my brain the best picture," he said. "I developed cataracts and had surgery, which helped my vision get back to what it was in high school."
Since Denny is unable to drive, he and his wife chose a home in a neighborhood where everything he needs is within reasonable walking distance, such as the post office, FedEx, UPS and the grocery store.
He also uses a large computer screen, types in large font sizes and wears a strong pair of reading glasses.
"Being able to work at home on this business, I've been able to overcome everything because I'm in control of everything," Denny said.
Denny said the poor economy has affected his business.
"Posters and action figures are great, but you can't put them in your gas tank and you can't eat them," he remarked.
Judging by the disease's effect on his father and uncle, Denny doesn't have an optimistic view of his visual prognosis.
"Their vision has gotten progressively worse," he said. "As they got older, it regressed rapidly."
In addition to running Movie Posters Etc., Denny is a lecturer at Cleveland State University on film and mass media.
"We study the form of film and some history, technique, genre and theory. I teach about sequencing, close-ups, medium shots and how to edit them together," he said. "I also lecture on the effects of mass media on society."
Denny used to avoid mentioning his visual disability to his students, but one student changed that.
"The student wrote a comment that they never got called on in class because they sat in the back," Denny said. "Now I tell students in the back to wave their hands vigorously so I can call on them."
"I still don't tell people that I can't drive," he said. "I don't want people to take pity on me or see it as a sign of weakness. I'd rather they didn't know. I know it makes no sense."
Unlike many brick and mortar stores that have decided to start a website, Denny would like to go in the other direction.
"I would love to see Movie Posters Etc. become a brick-and-mortar store," he said. "I don't there's anything like that in Cleveland. When you search online for movie posters in Cleveland, we're right at the top."
For The Mobility Resource readers: Denny is running a special holiday offer. You can get 10 percent off your order from Nov. 15 to Dec. 3 by typing "mobility" as the coupon code on the checkout screen.  If you have any problems with the coupon or have any further questions please email him here.
2. Pottery
Christian Royalhas found a unique outlet for his artistic talent; he creates pottery inspired by leaves from his yard and antique lace.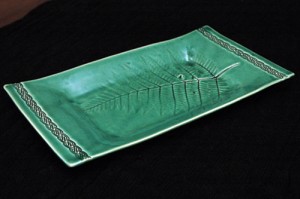 Christian is 19-years-old and due to Downs Syndrome, struggles with longer words and math concepts.  However, he has found expression and success with his pottery.
In his home studio, Christian creates "stoneware with the charm of things imperfect and simple," according to his website.
By watching a short video on his site, you can see how he chooses his inspiration, prepares the clay, makes impressions in the pottery and finishes the work with a paint job.
Christian, who gets some help from parents Mike and Helen, sells his artwork in six stores in his native South Carolina and one more in Atlanta.
3. Children's Books
"Marvelous Mercer" is a book about a dog that helps a disabled child. It was the story of Shea Megale's life, and it brought her to national attention on the "Today Show."
Shea published the book when she was 12: now she is 17 and a high school graduate. She continues to pursue her career as an author.
Her accomplishments are impressive not only because of her youth, but that she has had to deal with Spinal Muscular Atrophy Type 2, which causes her muscles to gradually weaken.
Shea's family adopted Mercer when he was 2-years-old; he came from California and already had the name which created alliteration with the author's last name.
"Shea Megale and Mercer: it just rolls off the tongue," she said.
In the book, Mercer helps Shea by day and embarks on fanciful adventures by night. Those flights of fancy represent the things Shea dreams of doing.
Shea wrote "Marvelous Mercer" in a writing workshop in middle school. Lately she has been working on young adult novels, some of which are inspired by her actual  dreams.
"I always wanted to write, and I took a lot of pieces of my writing and turned it into a book," she said.
Sadly, the real Mercer passed away two years ago at the age of eight.
"I was in Europe at the time, and back home, Mercer became blind and was diagnosed with cancer," she said.
Then and now, Shea remembers Mercer fondly when she hears the Phil Collins song "You'll Be In My Heart" from the "Tarzan" soundtrack. He hasn't been replaced.
"He was my soulmate. I can't imagine spending that time with anyone else, but I'll probably get one eventually," she said.
Mercer was able to pick up pencils and open doors for Shea. How does she do it now?
"Brussels sprouts and veggies," she joked. Actually, she gets help from her parents and siblings.
Shea has completed two other Mercer books: "The Secret Project" and "All Paws on Deck."
"I've also given thought to a book about Mercer in Heaven," she said.
Shea is currently shopping for a publisher for her new sci-fi book The Breakers, about a group of rebels who fail to overthrow the government and are forced to live underground.
Shea was able to meet another group of rebels when she visited the set of the "Hunger Games: Catching Fire" movie in Georgia.
Writing provides a great release for Shea, as it takes her where she needs to go.
"The biggest challenge of this disease is emotional," she said. "It's a lack of independence: I can't be somebody who is without someone. When I'm typing away, I can be running and jumping over rocks without hurting myself physically."
"The greatest impact I've seen with the 'Marvelous Mercer' series…well, the greatest thing I have learned from writing is power," she added. "Writing is the most uncorrupt form of power. I've been granted the ability to reach from one soul to another, to move, to teach, learn and yes…to stand."
She saw elementary school kids' drawings of her favorite dog as recently as last month in Ohio.
"Having kids rush up and show me their own stories that I inspired while I leaned down and complimented every crayon stroke I could find, having them plunge forward and hug me unannounced — that is impacting. Mercer lives on. He always will. In my heart. And apparently, in theirs too," Shea said.
The Mobility Resource readers will receive $5 off an autographed book.  Just mention you saw her  article here.
4. Art photography
Aside from a camera, a photographer's most precious tools are his eyes. Drew Bedo is legally blind, so every bit of light and sight is even more precious.
Bedo is the artist behind Quiet-Light Photography. Instead of portraits or sweeping landscapes, he concentrates on smaller subjects, some of which fit in the palm of his hand.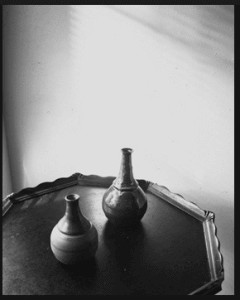 Bedo was already a photographer when he suffered a stroke in late 2002, which interrupted the flow of blood to his optic nerve. As a result, he has no sight in his right eye and 20/20 vision in his left eye.
For a while, he became depressed and at one point, he even contemplated burning his camera. However, he discovered that if he used a magnifying lens to read a light meter and set the exposure, he could still take photographs.
Two of his favorite photographic works are a pair of hands reading "Amazing Grace" in Braille and a close-up photo of the one eye that allows him to do what he loves.
"Photography has become a therapeutic affirmation of my ability to adapt to, adjust to and accept my condition," he states on his website. "Photography has become more than another way of seeing. For me, photography IS seeing."
Bedo's photography career also led him to Rocky Mountain Natural Park, where he spent some time as an artist in residence in 2011.
In addition, he recently spoke about blindness and photography at Costa Mesa (Calif.) and attended the opening reception of the Shared Visions Exhibition for 2012-2013 at the Southern California College of Optometry in Fullerton.
One of the most challenging aspects of Bedo's work is assembling the camera. He uses a vintage Kodak 2-D camera from the mid-1930s for larger prints and 1980s-era zone VI camera for smaller prints.
His artwork ranges in price from $150 for an 8×10 print to $400 for a 16×20 print. You can also get a portfolio series of prints for $1200 to $3500 depending on size.
The key to Bedo's style of photography?
"It is not enough to photograph an object; I must capture the light that enwraps it."
5. Hand-Painted Christmas Cards
In 1967, Joni (pronounced Johnny) Eareckson Tada was injured in a diving accident at 17-years-old, leaving her in a quadriplegic state with minimal use of her hands.
A common scenario after rehab, people begin looking for additional resources to move their life forward, only to find none that meet their satisfaction. Joni re-entered the community with new skills and a determination to help others in similar situations.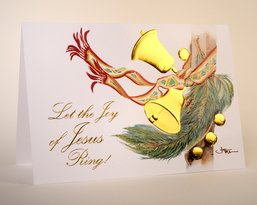 In 1979, as she and her friends responded to the outpouring from families affected by disability who read Joni's books or saw her movie, "Joni," she gave birth to her ministry, Joni and Friends.
Today, Joni is one of the busiest ladies around.  She has written over 40 books, recorded several musical albums, starred in the autobiographical movie of her life, and is an advocate for people with disabilities.
In addition to running a ministry, she is a conference speaker and a wife.  As if that weren't enough, Joni is currently battling breast cancer.
When she was in rehab, she was dealing with depression, anger and suicidal thoughts. That was until she learned how to paint with a brush between her teeth. Every year, Joni paints two Christmas cards which are available exclusively from Joni and Friends.
These cards feature Joni's art. Each box contains 15 cards with envelopes. With every purchase, you are helping children and adults with disabilities. The two cards of the 2012 Christmas Season are "Christmas Bells" and "Holy Night."
In addition to Christmas cards, you can purchase other beautiful art work from Joni here.
This Christmas season, take the pledge.  The pledge to purchase a gift from someone with a disability.  The disabled population is the largest unemployed group.  These folks represent such a small number of people employing themselves.
Do you know someone who has a disability with a product to offer?  Someone who has invented something?  Makes something?  Sells something?  Give me their information and I will feature them too!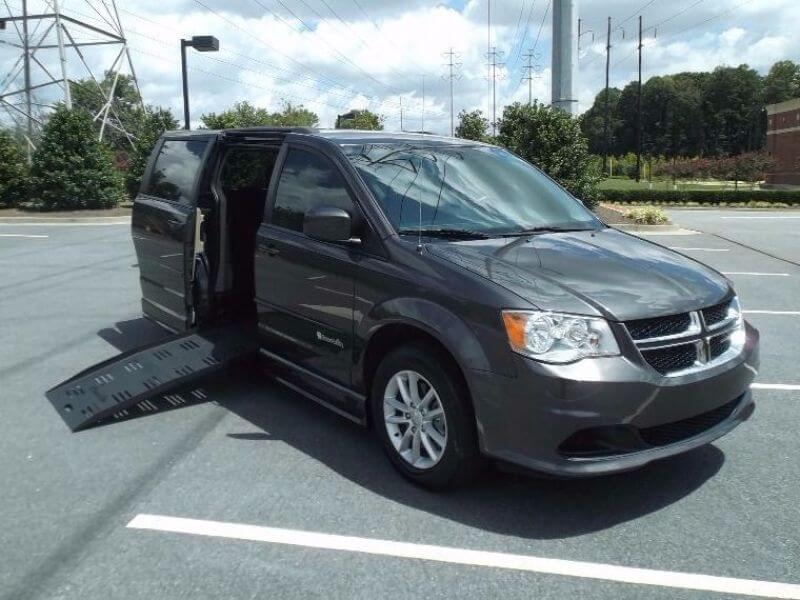 Find your perfect Wheelchair Van
Select from thousands of wheelchair vans for sale from hundreds of nationwide dealers
The Mobility Resource has one of the largest selections of Dodge, Toyota, Chrysler, Honda, Ford, Chevrolet wheelchair vans
View All Wheelchair Vans