Do you believe you were born for a purpose?  I believe we all have several things to accomplish in our lives.  I wanted to be a Mom since I was a little girl.  I got married in 1982 and 31 years later, we are still a good team.
We started trying to have a baby right away.  It took us several years but finally we were pregnant.  I was thrilled and terrified maybe I am not ready.  That didn't matter because it was time.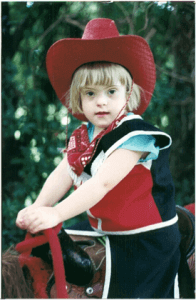 I am an optimistic person to my core and it never occurred to me that something could go wrong with my pregnancy.  I had a wonderful pregnancy, feeling the baby grow inside me was a beautiful experience.   I could not stop smiling and feeling like the luckiest person in the world.
Our precious first born baby Sara Renee Ruh was born on Easter Sunday in 1987.  She was born about 3 weeks sooner than expected.  She was bloated from being in the birth channel for many hours and had forceps marks on her cheek. She looked like a little Sumo wrestler.  The doctor did the Apgar test and scored her 6 out of 10 because of poor muscle tone.
I remember holding and looking at my precious baby girl about an hour after she was born.  A thought quietly floated through my mind, "My baby looks like she has Down syndrome."   I immediately rejected that quiet whisper.
I had never known anyone with Down syndrome and had no idea what those babies looked like, plus, wouldn't the doctors know?  I didn't mention that whisper to anyone.
We brought our Sara home and fell madly in love with her.  She was the best thing that had ever happened to our family.  We loved being parents and Sara was a happy baby.  We threw ourselves into parenthood.
A male friend asked me one day, "Can you believe how deeply you have fallen in love with her?"  I understood what he meant.  The depth of our love for her was surprising.  I knew that I would love her but was surprised at the intensity.  I now understood how someone would give anything for someone, even your life.
I took her in faithfully for all her shots and regular checkups.  During her four month checkup, one of the doctors became concerned because she was not gaining weight.   He called it "Failure to Thrive," and blamed it on breast feeding.   I loved breast feeding her and refused to give it up completely.  We agreed that I would supplement with a bottle.  He told me that we had two weeks to gain weight or he was admitting her to the hospital.  We pushed food on Sara for the next two weeks.
My husband  took her back to the doctor.  The doctor was pleased that she had gained weight but wanted to do additional tests.
A few weeks later the nurse called me and said the doctor wanted to see us in his office that day at 2 p.m.  I figured it couldn't be good news.
I started praying.  A quiet and gentle feeling came back saying, "Yes, everything is fine."
The doctor told us that Sara had a chromosomal syndrome called Down syndrome or Mongolism.  "Don't worry, the doctor said, she will be easier to raise than a child with ADHD."
Seriously?  This is the wisdom you offer. Now we were comparing disabilities?  He told us we could check into institutions but most people raise their Down syndrome babies at home.
We were stunned.  What would this mean for our lives and for our beautiful daughter?
Our doctor sent Sara to be tested for other issues like heart problems.  We were told she had the strongest heart that they had seen in a long time.  That was a relief.  Maybe everything would be okay.
Next we headed to the geneticist.   The geneticist had a team of student doctors with her hovering all over Sara.  During the examination, the doctor told us that she would probably never walk or talk.  Plus be careful because she might get pregnant at 16 because girls with Down Syndrome tended to be promiscuous.   I looked down at our precious baby sleeping in my arms and stood up and said, "ok, we are done!" and left the room.
We told our parents but did not tell others for many months because we wanted to have time to come to terms with the news.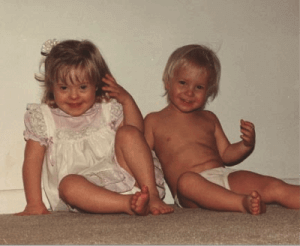 We had to reset our dreams for this baby.  Maybe she wasn't going to grow up and obtain a Ph.D., marry and have five children and find a cure for cancer.  Isn't it odd how you make plans in your head and do not even realize that you are doing it?
A few weeks after the diagnosis, I drove through a fast food drive-thru.   Sara was all snuggled up in her car seat.   The teenager helping us leaned out of the drive through counter and said, "Does your baby have Down syndrome?  She is so cute.  My brother has Down Syndrome."  I did not want Sara to have Down syndrome and certainly did not want people to be able to look at her and see she had Down Syndrome.
My husband and I had to walk the stages of grief and learn to accept the diagnosis.  Plus we still had the cutest most amazing baby in the world.  Nothing had really changed about our baby.  She was still our precious Sara Renee.
We enrolled her in a wonderful early intervention program run by Easter Seals.
Life proceeded on, when Sara was 15-months-old her brother Kevin was born.   We moved from Florida to Virginia a few years later.  I will confess that one reason we chose Virginia was because they had better school systems for special education than Northern Florida.  I am not sure if that is still the case.
In the sixth grade, Sara was barely reading or writing.  We met with a transition team to plan out Sara's future and last years of school.  We also discussed future employment options. We understood that if Sara could not read she has few employment options.
Someone on the team suggested a job bringing in shopping carts at a grocery store.  I was shocked.  Seriously?  That is our stretch goal for her last years of school?  Those words haunted me and propelled me to create an IT firm that understood the value of employing people with disabilities.  We also taught Sara to read and she won the Hanover County Raby Award for most improved Special Education Student.
The company was named TecAccess and the majority of the team members were technologists with disabilities.  Sometimes over 80 percent of our team were represented by people with disabilities.   We focused on ensuring Internet, Communications and Technology (ICT) Accessibility.
If ICT is not accessible to everyone including people with disabilities the digital divide widens.  According to a World Health Organization (WHO) 2011 Study, 1 in 7 people in the world have a disability.  According to the National Organization on Disabilities (NOD), 1 in 3 American Households are impacted, and this community is the largest minority community after women.
TecAccess merged with SSB BART Group (SSB) in 2011.  SSB was a former competitor that offers the same type of services and is also committed to employing people with disabilities.  Sara became a spokesperson for them too.
In early 2013, I stepped back on my own and formed a new company.  Ruh Global is strategic communications and digital marketing firm that helps companies and countries effectively include people with disabilities in every aspect of society.  Sara is our CIO – Chief Inspiration Officer.
Sara changed our lives and she changed the lives of millions of others because of her positive influence.  She continues to add value in the lives of the people that she meets.
Remember that the doctor told us Sara would never walk or talk.  Well he was wrong.  Sara speaks at conferences all over the world including recent speeches in Egypt, Singapore and an upcoming even in Nairobi, Kenya before 5000 people.
She talks about why people with intellectual disabilities can and do add value to society and the workforce.  Sara also chatters on social media using Facebook, Linkedin and Twitter.  We are active on social media and together have over 50,000 followers.
Today Sara is in her mid-twenties; she can walk and talk and I am still not a grandmother (smile).   Sara has also won awards for her work including the Top 40 under 40 in Richmond, Virginia, the Award of Excellence in Advocacy from NorthStar Academy, and the Raby Award for most improved special education student in Hanover County, Virginia.
Sara has taught me many life messages and touched the lives of people in powerful ways.  Several of her childhood friends became Special Education Teachers; her brother devotes his life to helping people understand people with disabilities can add great value to society.  Plus her speeches have touched people all over the world.
When we visited Egypt in early 2013, many people wanted to pose with Sara in photos. People with Disabilities are still often kept at home in many countries.  It is rare to see a self-composed, professional young woman with Down syndrome speaking at large venues.  We were stopped on the street, in the airport and  at the hotel.  People were impressed with Sara's poise, confidence, sense of humor and intelligence.
Sara has inspired me to change my career from a Mortgage Banker to Entrepreneur and Global Disability Inclusion Strategist.  I have had the pleasure to follow my passion to help include people with disabilities in the global workforce and to become a thought leader in the Disability Inclusion, Social Media and ICT Accessibility field.
I believe that God does not make mistakes when a child with Down syndrome is born.  Instead many people with Down syndrome are great teachers – if we stop and listen to their wisdom.  Disabilities are part of life.  We need to embrace the lessons that we are taught by our abilities and disabilities.
Sara is my North Star and she blesses me every single day.  She always reminds me to stay in the moment, find joy in the small things and help others see the beauty in our differences.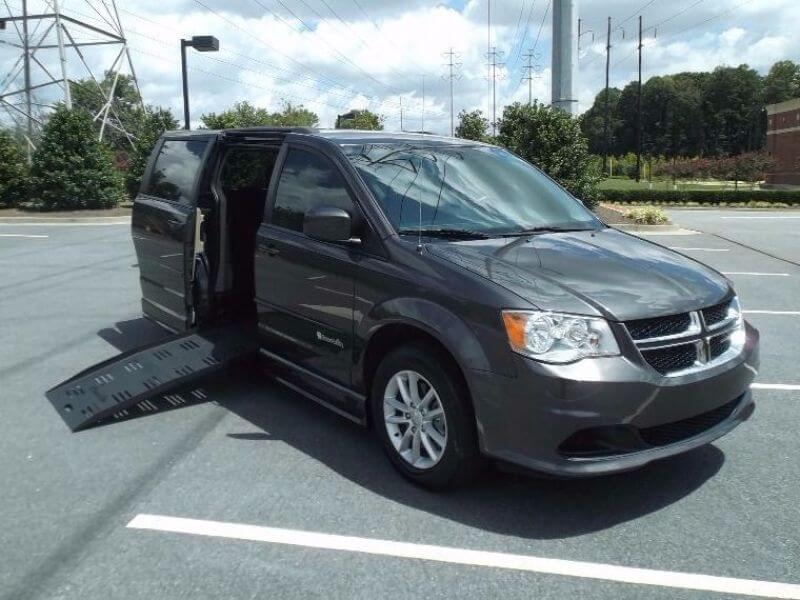 Find your perfect Wheelchair Van
Select from thousands of wheelchair vans for sale from hundreds of nationwide dealers
The Mobility Resource has one of the largest selections of Dodge, Toyota, Chrysler, Honda, Ford, Chevrolet wheelchair vans
View All Wheelchair Vans