Special to The Mobility Resource
On June 16, 1994 my family faced the unknown future following my paralysis. On a church mission trip to the scenic Bahamian island of Eleuthera I broke my neck performing a routine somersault. In a moment I was unable to move from the neck down. The team of experienced medical professionals traveling with our group stabilized me as we waited for a medical helicopter to arrive from the States.
It was hours before I saw my parents. Those first few days following my injury are still fuzzy but a few things do stand out. First is pre-op where staff prepared me for surgery. Then the vigil of family and friends as I lay on a rotating bed in ICU. Finally, recovery in my hospital room and working through my prognosis and treatment.
Paralysis struck all of us: me, my family and our friends. We shared in the apprehension and uncertainty. How does a healthy and upbeat kid becoming instantly paralyzed make sense? How will this recovery go? How much will he recover? Will he walk again? Will he be depressed?
All my mother needed to know was that her son was safe. She, my father and a family friend arrived in Miami ahead of me. She waited anxiously as the helicopter carried me across the ocean to one of the nation's top spinal cord injury hospitals. She stayed right there through my admission and surgery. Only when she was certain I was absolutely safe and sound did she leave the hospital to rest at the hotel.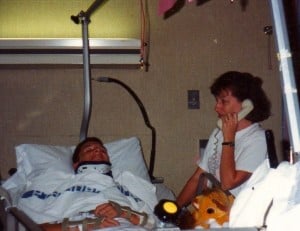 There wasn't much rest in those early days. Instead she was fielding calls and letters from across the country. She wanted to be there whenever I was awake and as I slept. There were the prayers only a mother can breathe. There were gentle songs–hymns sung under her breath. There were those attentive offers of water, wiping my nose, feeding and dozens of other duties: the duties of a mother to her vulnerable child. Those days were much like the days after she brought a newborn Michael home from the hospital. Like a twenty year old LaDonna in rural Arkansas, now almost forty, she faced a future caring for her son.
Over the weeks and months ahead she served selflessly as I recovered some independence. She became my nurse, therapist and orderly. The task list was daunting: emptying my urine bags, dressing, stretching my arms and legs, bathing, bowel care, catheters, transfers, food, medicine, appointments, school. All of this far from home. We bridged the distance over the weeks, moving from Miami to Tampa to a center in Largo a few miles from our home as my level of care was deemed less intense. She travelled to see me almost every day.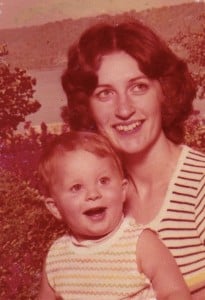 When I returned home we faced the reality of everyday life. We hit the ground running with school and work, rehab, church and friends. Mom, dad and brother took care of my daily care; but it was Mom who took the reins as my primary caregiver. She managed the home and activities at school and church for us. Somehow she defied sleep and fatigue in this balance. For the next three years she performed this dance.
When my brother Jarred finished high school and I finished junior college it was time for Mom to move on. Jarred was going to college in North Carolina and Dad had been pastoring a church in Arkansas. That summer she packed up and left Florida, our house, our church family and her paralyzed son behind. A woman of strong faith, she cried and prayed daily for me. While she was in Arkansas, her heart would always be in Florida.
A few years later, Mom was excited when I decided to join her and Dad, now in Texas. I lived with them several weeks as I got settled into the new town. Finding a new apartment, work and friends proved difficult. I hired home health through much of my stay with them, eating up my savings. Transitioning back to living with my parents was a challenge for us. But we had some good times.
Even after I moved into an apartment with regular home health, Mom visited regularly. She would give me a lift to church in our wheelchair accessible van. Some days she was my caregiver. Some days she came just to visit. She was as much a fixture in my community as any of the residents.
Then the decision came for my parents to move back to Arkansas. This time I knew I couldn't join them. I debated moving back to Florida, but decided to stay. Again, Mom left a piece of heart behind with her son. Again, she had to trust that God and the network of friends and caregivers I had built would take care of me.
She visited Texas regularly. Partly to check in on me, and partly to just get away to somewhere familiar. Like so many others affected by paralysis, she and I had grown very close because of that caregiver role she had taken for her son. While she was immensely proud of my independence and accomplishments she wanted to be there to take care of me.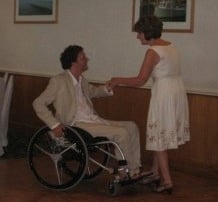 In those months I reconnected with an old friend via email named Dana. She and I had never actually met, but had corresponded over the years since a chance encounter in college. Dana and I fell in love with each other as we traveled to visit and talked daily. Again, Mom faced a big change; this time in placing my care in the hands of my wife-to-be. In a very real sense she and Dana came to appreciate and understand each other in a way few others can: out of a selfless and overwhelming commitment to care for a loved one with a disability.
From the day she heard her firstborn son was paralyzed and would likely never walk again through rehab and recovery and across the room or the country, my mom has been ever vigilant and ever attentive. Our friendship has been strengthened because of her role as caregiver. From our shared experience she has been there for my wife and myriad others in need. She will always find someone to love and take care of, that's her nature. But I'll always cherish her loving sacrifice for me.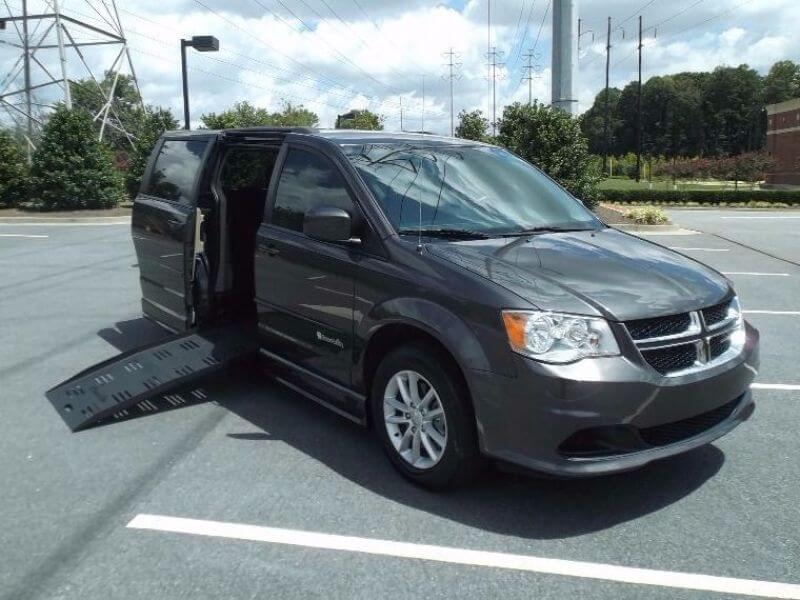 Find your perfect Wheelchair Van
Select from thousands of wheelchair vans for sale from hundreds of nationwide dealers
The Mobility Resource has one of the largest selections of Dodge, Toyota, Chrysler, Honda, Ford, Chevrolet wheelchair vans
View All Wheelchair Vans