Whether it's motocross or an adrenaline-fueled twist on a sport at the X games, extreme athletics is surging and the public is eating it up. Think of it as the modern-day version of gladiators and these guys represent everything awesome.
Passionate, dedicated, maybe a little bit crazy; they throw their hearts and bodies quite literally into their sports, and they'll do anything they can to get back into their sport no matter what accident takes place. Ready to get jaw-droppingly impressed? Here are five extreme athletes who will never say die.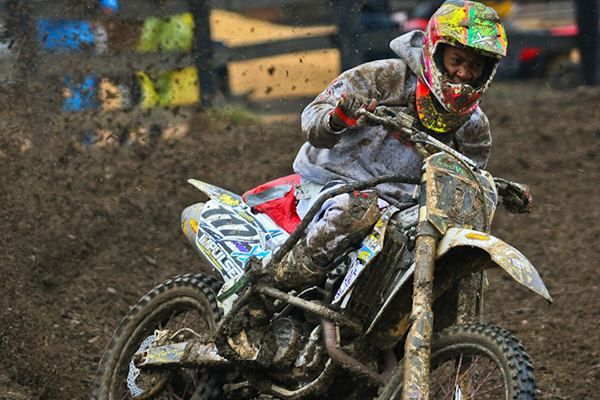 Darius Glover
Riding since he was 7, 117-pound Darius Glover has motocross DNA in his blood. He grew up in Maryland riding with likeminded friends, including seasoned motocrosser Daniel O'Brian. But his entire world was turned upside-down when he broke his back during a practice run for an amateur race at a local motocross track. Darius was only 15, and nowhere near ready to give up on his passion.
He retrofitted a 2012 CR450f bike with self-designed hand-controls for the slipper clutch and brake, as well as a custom fabricated seat to hold him insecurely and custom handle bars. Darius was back at racing within a few years. Make no mistake—It was hard for Darius to figure out how to ride with no leg movement, but he got the hang of it enough to become the first rider with paralysis to get cleared to ride in an AMA (American Motocross Association) race.
Now 21, he's raced in several races, including throwing down an impressive ride at the Mini O race in Gainesville, FL in 2012. He was in the lead until falling during a sharp turn.
Josh Dueck
Hailing from Vernon, British Columbia, Canada, Josh grew up in a town where skiing was king. He took on to skiing like a rock star when he was 13, and by the time he was 15 he was racing with a local freestyle club. Josh was putting up insane times that could one day get him to the Olympics.
But his Olympic dreams were cut short in 2004 when he broke his back doing a jump while coaching. Now a T11 paraplegic, skiing on two skis was now out of the question, so he took on sit-skiing, the sit-down version of snow skiing. By 2006, Josh was racing and began appearing in the X games and in 2010 he won the silver medal for men's slalom in the Vancouver Paralympics.
But Josh's story is the classic tale of a boy not satisfied with the status quo. In his case, he wanted to ski again in the backcountry; not just the slopes. He went and designed a new style of ski called "The Freedom Chair" and made history by landing the world's first back flip in a sit-ski last year. The epic jump was documented in a documentary and even National Geographic was impressed, nominating him for their 2012 Adventurer of the Year Award.

Christiaan Bailey
The only paralyzed professional big wave surfer in the world, Christiaan Bailey, 32, has been obsessed with surfing and skateboarding since growing up in Paris. After moving to Santa Cruz in 2003, he went pro in both sports, but his career was put on hold in 2006 when he broke his back at the L3, L4, S3 level. A lower break, but one that still took his legs.
He was back at doing what he loves within the year, figuring out the in's-and-out's of adapted surfing – surfing on his stomach – and chairskating, an adapted version of skateboarding, where the skater uses his chair to do stunts and tricks. In 2009, he was the first person with paralysis to win the WSA National Championships (surfing event) and he's both surfed and chairskated in several expression sessions at pro events, including the ASP World Tour. He's also one of the few pro chairskaters in the world (one of two).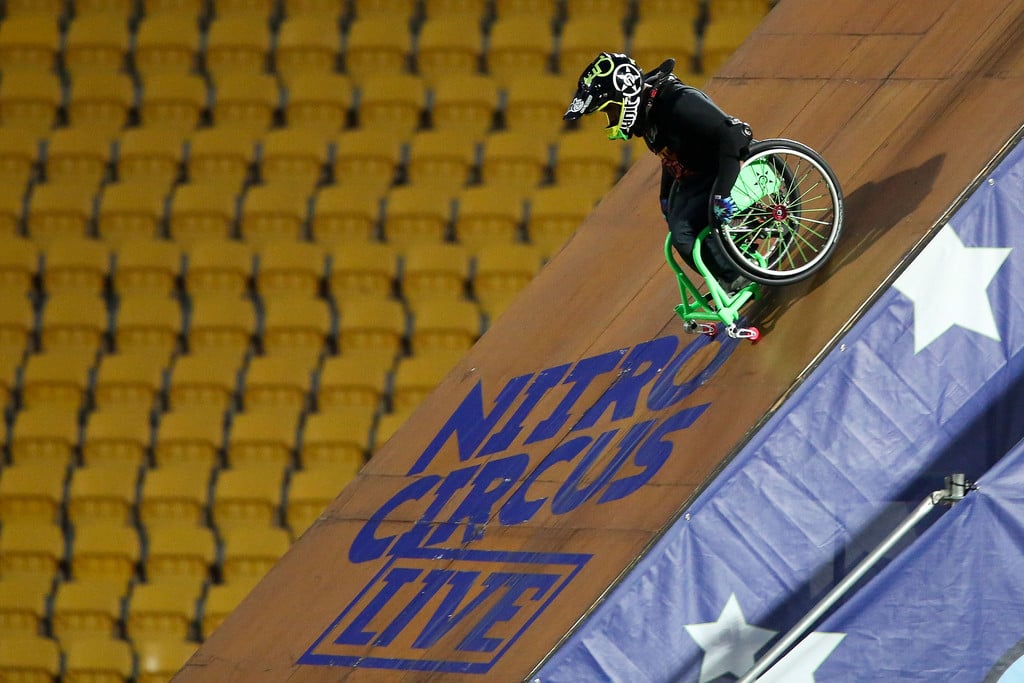 Aaron Fotheringham
Born with spina bifida, Aaon Fotheringham has only known life sitting down, but that perspective never limited his athletic prowess. When he was 8, he got his first taste of dropping down into a quarter-pipe – chair and all – at a local skate park in Las Vegas where he grew up and the rest is history.
By the time he was 14, he was the first person in a wheelchair to land a backflip, and then he beat his own record when he was 18, landing a double backflip.
Aaron performs several other tricks adapted from skateboarding and BMX professionally. He calls his sport "WCMX." And he's one of the most widely known extreme athletes in the world. He tours with the Nitro Circus under the monniker Aaron "Wheelz" Fotheringham and performs flips on their 50 foot megaramp. In 2011, he set one more record while touring with them – landing the world's first frontflip in a wheelchair.
Ricky James
Ricky James is another paralyzed motocrosser who lives and breathes his sport. From Murrieta, CA, he began racing when he was two, but at age 15, a bad crash landed him in a chair. However he was back on his bike in – get this – 5 weeks after his injury. Crazy quick, and he uses a steering stabilizer for more balance, electronic shifting and an electronic start to make up for the use of his legs. He rides a KTM 450 SX-F.
Ricky was one of the first paralyzed athletes to appear in the X games, debuting "adaptive motox" and adapted version of motocross in 2008. He even broke is back again in 2009, but returned to racing in 2012, finishing in the top two at Buffalo Springs 70.3 event.
These five athletes prove one thing and one thing only, never underestimate the human capacity for perseverance.
Footnotes:
Darius is sponsored by Oakley, Race Ready Fitness, Alpinestars and Arai.
Darius photo copyright MXP TV
Josh is sponsored by WorkSafeBC, Silver Star Mountain Resort, Lululemon, Volkl and Rancho Vignola. Josh photo credit Paul Morrison photography Chrstiaan is sponsored by Surftech, Roush Creations, Volcom, Electric Sunglasses and Santa Cruz Skate Shop & Aloha Island. Aaron is sponsored by BOX, Unite, Schwalbe, Frog Legs, Bones, Spinergy, Osiris, Fusion and Kicker. Ricky is sponsored by SoCal Trucks, Colours Wheelchairs, Motul, PowerMadd, Shift and SHOEI. Photo Courtesy: http://www.rickyjames824.com/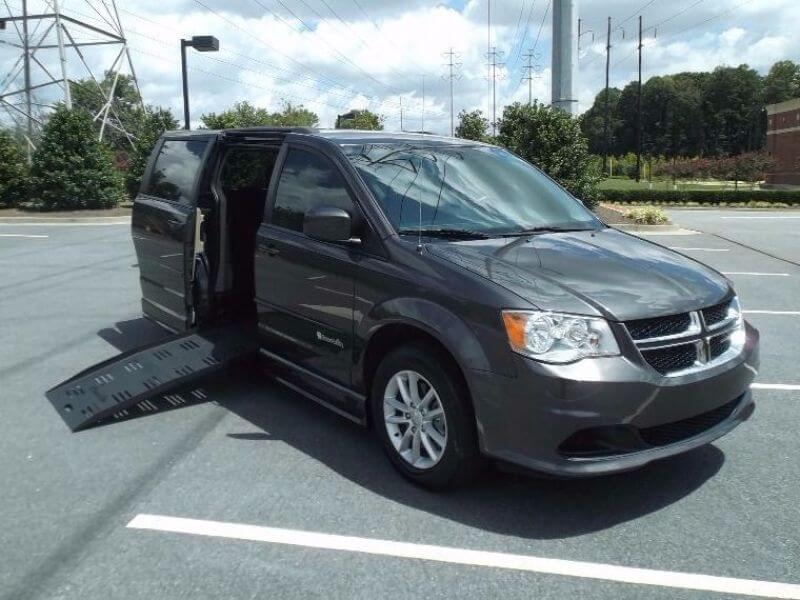 Find your perfect Wheelchair Van
Select from thousands of wheelchair vans for sale from hundreds of nationwide dealers
The Mobility Resource has one of the largest selections of Dodge, Toyota, Chrysler, Honda, Ford, Chevrolet wheelchair vans
View All Wheelchair Vans