How Does Society Perceive People In Wheelchairs?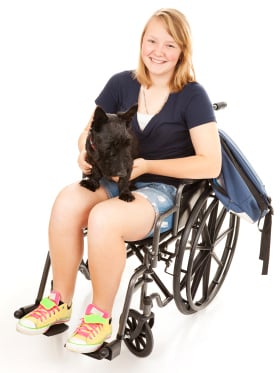 How do people in society perceive one another?
It is within our nature to cast an assuming glance and to judge reality. Within just a matter of seconds our world becomes what we project it to be.
A middle-aged man in a suit can become a burnt out business man, a tall beautiful woman will become a model, an airhead or maybe a femme fatal, a group of rowdy teenage boys are just up to no good and a woman sitting in a wheelchair–well we feel sorry for her. We picture health issues and disability checks, because after all, she is in a wheelchair.
What's frustrating is getting people to see you in any other way. We've toured the heaven's and have unveiled our genetic code, but for a lot of people, it's difficult to believe what I truly am capable of. Why is that? Why does my wheelchair or disability void any abilities I do have or have had in the past?
I will be talking to friends, and even they will become baffled when I share a more physically involved sentiment from my past. It makes it hard to relate to someone while recalling nostalgic moments of camping and hiking in the woods or when sharing with them that I used to love to ride my bicycle.
But, talking about those life experiences almost always turns into not-so-casual stares at my wheelchair, with an awkward silence that almost always indicates that it had never occurred to them that I could possibly know what it's like.
I'll get asked at the bank or at a grocery store if I am even capable of signing my own name, and why, because of my wheelchair? Someone might admire the earrings I'm wearing and complement me on my taste. But when I inform them that I made the earrings I have on myself with my own two hands, it's too shocking to believe.
It's such a daunting task to overcome a mindset so preconceived in it's notions of disability, that having to always explain to the world around you what values, talents, abilities, and proficiency you possess as a person or employee, that eventually we will tend to give up the effort.
This is what is so wrong about stereotyping, especially towards those with disabilities. We can become our stereotype. So much so, that we don't even see how devastating of an impact it has. Not just for someone with a disability, the devaluing of a human happens before we have even put thought into it.
How many minds and talents are we simply ignoring because of their disability or difference? How many other Stephen Hawking's do we have out there for instance, that are kept dormant by a disability misconception?
So before you discount a person because of a wheelchair or disability, try and keep an open mind. A perfect body doesn't make a person smarter or prettier or more talented or even a better person. A wheelchair doesn't imply that I have less to offer, less skill or less experience. So don't use my wheelchair or disability as an excuse to invalidate my worth or to walk all over me.
Find your perfect Wheelchair Van
Select from thousands of wheelchair vans for sale from hundreds of nationwide dealers
The Mobility Resource has one of the largest selections of Dodge, Toyota, Chrysler, Honda, Ford, Chevrolet wheelchair vans
View All Wheelchair Vans