Top 5 Fashion Tips Every Wheelchair User Should Follow
Everyone has their go-to rock star look. Mine are my black leather motorcycle boots, black and white striped skirt, fitted red yoga tee shirt and grey leggings. This outfit works because ever piece looks awesome sitting down, and holy cow was there was a lot of trial and error in the beginning; awful outfits and wasted money. The fashion gods were not pleased.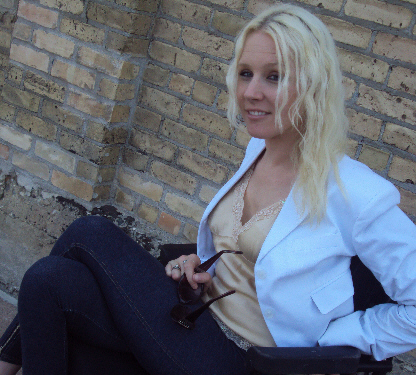 We're talking "seated fashion" folks. It's up to us to educate ourselves on our own unique offshoot of fashion. If you take the time to think about how your clothes fit you and your seated frame differently, it can make a huge difference. The first rule of thumb – be positive. I don't care who you are, you can look good in a wheelchair. Once you got that taken care of, the rest of it is a piece of cake. Read on for my top 5 top fashion tips for wheelchair users.
1) Check your inseams.
One of biggest no-no's you'll see a wheelchair-user commit that just makes me want to scream are high-waters. We're talking pants that aren't long enough, when you're sitting down that is—and its not pretty (George Bush Sr. loves to commit this one). But it can be tricky figuring the right length for you.
I recommend measuring your inseam while sitting down, then add a couple inches onto that (to adjust for shrinkage, wear). I think having beautiful long pant legs can elongate the body beautifully in a wheelchair. Unless your height is somewhere in the 5'3 and under zone, chances are you'll need to buy a longer inseam. Tip: Check out Oldnavy.com for their exclusive online tall women's section for some super cute long inseam pants.
2) Supportive shoes can be cute (yes, really).
Just because you're not walking, doesn't mean you need to fork over all of your cute shoes and go for those supported shoes they tell you to wear in rehab. They're lying to you anyways. You can wear cute shoes and they won't kill you. In fact, using a wheelchair is a great opportunity to wear all those cute and uncomfortable shoes you would never wear if you were walking.
As long as you don't buy shoes that are too tight and may injure the skin, have fun. And if you do need shoes that give you support and look cute, a pair of sturdy boots with a zipper all the way down to the ankle can be a great option. The sturdy leather will give your ankles they support need.
3) Look sleek with longer tops.
Another pet peeve of mine I see quite frequently is having an exposed belly. And this is likely because most wheelchair-users don't have the best posture. From paralyzed torso muscles to osteoporosis, the reasons can vary. But there's an easy way to keep your belly under wraps. Buy your tops in "Tall" or "Extra Long." If you go to the Gap or Old Navy, you'll find these tops and I guarantee you'll be amazed at how much better your silhouette looks.
4) Accessorize to the max.
I've been saying this for a very long time but accessories are your best friend if you use a wheelchair. They're easy to put on and can make a huge difference in an instant. From long chunky necklaces and hats to facial jewelry (to give yourself some edge) to going crazy with printed stockings (one of my favorites) never forget the importance of accessorizing. It can take the person's eyes off your chair and onto your awesome accessories instead.
5) Show off your shoulders.
It's always important to have a little sex appeal. And showing your shoulders is a great way to do just that. When people look at you, their eyes will be drawn upwards, toward the nexk and face—not your chair. A shirt that falls off one of the shoulders is great, otherwise a strapless top can do the trick.
There are a multitude of reasons to look good. Greater self-esteem. Enhanced self-confidence. And one of my favorites, every time you're out in great outfit, you help erase stereotypes that wheelers can't be fashionable. Commit these five rules and you'll not only be making yourself look good, but all of us as well.
Find your perfect Wheelchair Van
Select from thousands of wheelchair vans for sale from hundreds of nationwide dealers
The Mobility Resource has one of the largest selections of Dodge, Toyota, Chrysler, Honda, Ford, Chevrolet wheelchair vans
View All Wheelchair Vans
comments powered by

Disqus