As someone who loves watching shows like Say Yes to the Dress on TLC, you can imagine how excited I was when I got engaged this summer and finally had the opportunity to shop for my perfect wedding dress. Although I didn't have bridal consultant extraordinaire Randy Fenoli by my side, I was lucky enough to be able to turn to fashion guru Christine Schwab for advice.
Schwab and I both have rheumatoid arthritis and have gotten to know each other as fellow board members of the Arthritis National Research Foundation. A noted television personality and author of several fashion, beauty and lifestyle books, Schwab has shared her expert advice as a guest on many talk shows over the years. Ironically, her introduction to learning how to style women who use wheelchairs came when she was asked to do several fashion makeovers for what was then Live with Regis & Kathie Lee.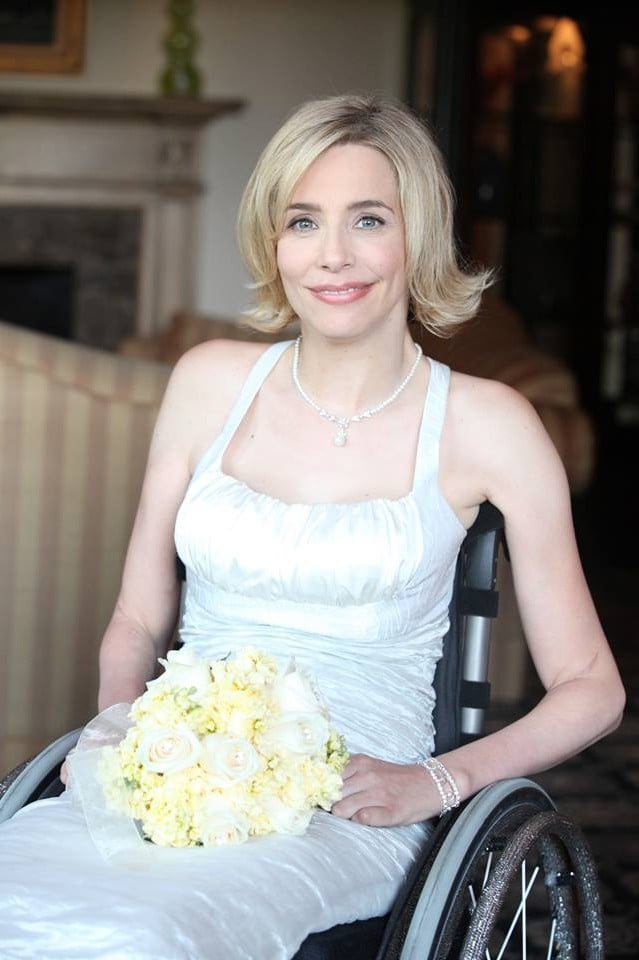 Since I also use a wheelchair, I knew she'd be the perfect person to turn to for advice on what to look for in a wedding dress. Many of her tips can be found throughout this article, along with helpful advice from other fashion experts and even a few brides themselves. By following their recommendations, I was able to find my perfect dress and there's no doubt that you will too.
How to Prepare for Dress Shopping
If you recently got engaged and are ready to start shopping for a dress, it's best to make an appointment with the bridal shop ahead of time—especially if you have a disability or use a wheelchair. The same goes no matter whether you plan to visit a small, privately owned bridal boutique or a chain store, like David's Bridal.
Prior to visiting, inform the store owner or manager of any special needs you have so they can accommodate you and block out ample time in the schedule for your appointment, Schwab advises.
"They usually book a certain amount of time but will need more time (in this case), so it's a good courtesy to alert them that the bride is in a wheelchair, she said." "They might bring in extra help or ask the bride to bring extra help. Either way, they will know to set aside the proper amount of time."
Based on my own experience, I also recommend recruiting a few close family members or several bridesmaids to assist you in trying dresses on, as it definitely takes a few hands. If you are unable to find people to help, Cheryl Davids, who works as the store manager at David's Bridal in Lawrenceville, New Jersey, says their consultants are always happy to assist. This is something I have found to be true at each of the David's Bridal stores I've visited in three different states over the years.
Davids also agrees with Schwab about making an appointment. At David's Bridal, "we like to accommodate everybody and for people who have wheelchairs, we need to give you the large dressing room that we have," she says. By scheduling an appointment, "we can save it for you and you don't have to wait."
Before arriving for the appointment, it's a good idea to "call first to make sure the person you spoke with will be there and that they are ready for you," recommends Jordan Silver, fashion designer and founder of Ag Apparel, an adaptive clothing company. Also, "bring pictures of the style of dress you have in mind, but keep an open mind because you never know until you try it on."
Prior to the appointment, "the bride should have her hair and make-up done so that she will be able to see herself (as planned) in the dress she chooses. I recommend this for anyone who shops," Schwab adds.
Schwab also recommends that brides wear clothing that that they can easily get off and on. Brides should also bring along appropriate undergarments, including nylons and "any jewelry that they want to wear to see how it works with the dress and a similar type of shoe. You pick the shoes after the dress but you want something that resembles what you will be wearing on the wedding day," she says.
Since the process can be overwhelming and a bit draining, Davids does her best to accommodate each bride because she wants them to feel relaxed so they can enjoy the experience. She also says brides should be worry-free, which means they shouldn't be afraid to share their opinions and trust in the consultants for expert advice.
"I can't emphasize the communication point enough," Silver says. "Communication is key. If you do not speak up and let the store, designer or seamstress know exactly how you feel about the fit or feel, you will regret it a lot longer than your wedding day."
Often, the bride feels pressured to make a decision about a dress that day. To avoid that, make it clear that you want someone to take pictures of you wearing the dresses you like so that you can review them later when you feel more relaxed and are able to be more objective. "Sometimes, we see ourselves in a different light if we see a photo," Schwab says.
How to Find the Perfect Dress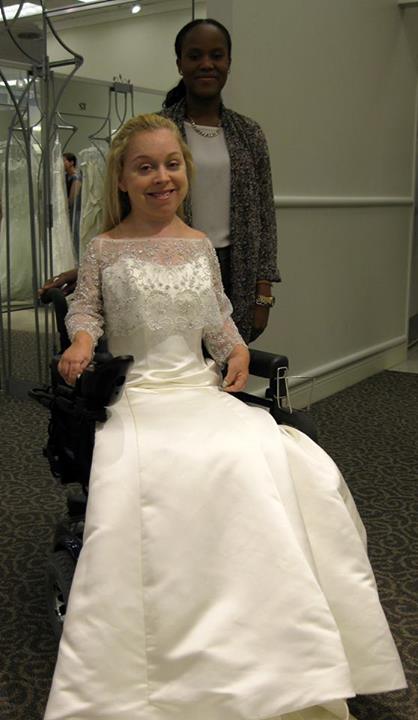 When searching for your dress, Schwab recommends avoiding the latest trends and going for something classic instead. Keep in mind those "classic beauties—Angelina Jolie, Cate Blanchette, Gwyneth Paltrow, Katie Holmes. They dress (in a style that is) simple and elegant," she says, adding, "To me that is how a bride should look—timeless."
To help achieve this look while working around restrictions imposed by a wheelchair, there are a few things to keep in mind:
Less is Best
Jen Conley-Letts, the alterations manager at David's Bridal in Lawrenceville, says, "I think the most important thing is for the bride to feel comfortable as well as beautiful, so I think that she wants to keep in mind the size of the skirt and the pouf."
Tammy Wilber Stay, who resides in Henderson, Nevada and uses a wheelchair due to a spinal cord injury, says trying on layered wedding gowns wore her out fairly quickly—even with her mother and mother-in-law there to help. For that reason, "I went with chiffon because it had less material, and it had many different styles that I felt would be affordable to alter. Trying on huge wedding dresses was too much work (and this was a fabric was something) I could transfer easily in."
Whitney Willis, who has juvenile rheumatoid arthritis and resides in Columbus, Georgia, chose a dress made of the same fabric for her wedding next year. Perhaps surprising to some, "I went with a bridesmaid gown that is made with chiffon material. I tried on a very 'non-poofy' wedding dress, and it was entirely too poofy on me, just due to the layers of wedding dresses. I just found the bridesmaid dresses were a better fit for someone of my size. Of course, I will have to get it altered, but I am hoping to only have to get the bottom layer cut off. And I am going to add a belt around the waist to give it some bling!"
Willis credits her best friend for helping to find the ideal dress for her. "My best friend works in a bridal shop so she was able to help me find dresses that fit me and would be okay for my wheelchair," she said. Overall, "(the process) was not as difficult as I imagined, but I definitely could not have done it without help."
Jackie Bartels Entjer, who is paralyzed and resides in Denver, Colorado,alsoappreciated having her mother and sister around to help since trying on gowns proved difficult due to the many layers of fabric. Fortunately, "the ladies at the salon were also very helpful," she said.
Based on that experience, "I chose a very fitted mermaid dress that softly flared around the lower (portion) so that it wouldn't get in my wheels. It also had a short train, so I left it bustled and it didn't get in my wheels," Entjer added.
When working around a wheelchair, Schwab agrees that less is best. "A big, full, puffy dress or a layered one with ruffles will just be bulky. A simple, clean—think Jackie Kennedy style—dress will look better because it will not bunch up when sitting. And no jackets and no big ruffles—or maybe one around the hem, if you must."
Asa long-time model and founder of the online magazine for women in wheelchairs, Wendy Crawford knew she wanted a dress similar to what Schwab described when she got married two years ago. "I wanted to find a dress without a train and one that was not too full. Volume gets to be too much when sitting. Instead, it's best to focus on the detail on top," Crawford says.
Schwab echoes those sentiments and recommends brides look for beaded or brocade tops if they can't have a full skirt due to a wheelchair. Although Crawford's gown did not have any special beading, she did end up selecting one with ruching that was designed by Nicole Miller. "For me, ruching down the torso worked well because it kept it fitted and it is forgiving in tummy area," she said, noting that she added straps to keep the top of the dress in place.
The Longer, the Better
In most cases, a long dress will look more elegant on a bride who uses a wheelchair, Schwab says. "The less of the chair that shows, the more the bride becomes the focus—as it should be."
Also, "I think if you wanted to be creative, you could even have some type of white slipcover for the chair. I have never seen this, but it would be something special and pretty."
One Piece or Two?
Crawford points out that some wedding dresses come in two pieces, meaning a skirt and a top. Typically, these dresses are much less bulky and easier to put on. "If you keep the color consistent, you won't be able to tell it's two pieces. Oftentimes, the bottom fabric of the dress is different anyway," she said.
Trust Your Instincts
While searching for your gown, there can be a lot of pressure from family members, bridesmaids and bridal consultants about what to choose. "Don't let a wedding store salesperson tell you what you should wear," Schwab cautions. "Take along someone you trust who knows you and will be honest. Don't let anyone talk you into something you aren't sure of. Just like with any fashion shopping, if you don't love it, don't buy it. It has to look, feel and be priced right. I think simple, elegant and classic always looks good. It's timeless, just like the bride should look."
Silver agrees. "Do not let anyone talk you into something that you are not comfortable with, even if you love the dress. If it can't be altered to meet your specific needs, you will not be your confident and beautiful self on your special day."
In the end, the bride should follow her heart's desire, Davids says, adding, "I think they can (choose to buy) almost anything because we can alter it to fit the bride. We want the bride to be happy and feel like she has the dress of her dreams. As long as she picks out what she loves, then we can alter it to suit her."
If the dress is truly the gown of your dreams, "I suggest you call a local seamstresses or designer to see if they are able to alter it the way you want," Silver echoes. "Almost all wedding dresses need to be altered or ordered to your size, with many fittings to follow. Talk with the store and seamstress let them know your needs and how the dress will best work for you."
My Dress Shopping Experience
When I first mentioned I wanted to begin looking for my wedding dress, my mother thought it was a bit too soon. However, she soon learned from bridal consultants and several bridal checklists, that a bride should begin her search about a year ahead of the wedding—if possible. This is in part because it can take quite a few months to get a dress after ordering it. In fact, I almost purchased the first dress I tried on at a local bridal shop called Fantasy Weddings by Anna Marie in Robbinsville, New Jersey and was told it would take 6 to 8 months to come in. My mother was definitely a bit surprised by that. Brides must also keep in mind that a seamstress will likely need to make alterations to the dress and that can take another few months.
Fortunately, during a visit to David's Bridal to help my bridesmaids find their dress, I ended up finding the dress of my dreams. As it turns out, it fits like a glove and cost me a fraction of the price! I am glad my mother and my matron of honor insisted I continue searching after visiting the first store, even though we all loved the first dress too.
I also learned that most dresses can be altered and embellished to suit one's fancy. In my case, I decided to remove the straps and add a small rhinestone accent to the gown. After putting on a few rhinestone brooches and belts that didn't look quite right, Conley-Letts suggested we try a rhinestone shoe clip they had instead. Surprisingly, it added the perfect touch I was looking for, and I was glad I spoke up because it made me love the dress even more. I also appreciated her creativity in trying to accommodate my request.
That aside, I also recommend brides try on veils and some accessories with each dress because it really pulls the whole look together and gives one a better perspective. I was glad consultants at both shops did this for me because it really helped make the dresses pop.
I was also fortunate enough to have my mom and matron of honor by my side at both stores I visited. At David's Bridal, I was also joined by maid of honor and one of my bridesmaids. I appreciated their suggestions, support, and assistance. It really made the day much more pleasurable and fun—as it should be. The staff at both stores truly couldn't have been nicer, which really made me feel at ease.
At each store, I tried on several gowns I liked and a few that either staff or members of my "entourage" recommended. In the end, it was me who found the gown. Once I made my final decision, Lisa Homann, the assistant store manager at David's Bridal, told me it is a tradition at the store to have the bride make a wish and then ring their famed bell in order to let everyone there know she has found her gown! It was really a special moment that I will always treasure, especially since my bridesmaid caught it on video. (Thanks Jayme!)
Is Custom-made the Better Way?
Before I found my dress, my mother anticipated that I would need to have one made due to my disability, use of a wheelchair, and overall short stature. Luckily, I was able to get a dress that suited my needs rather quickly—and at a very affordable price. This was a huge relief, as I suspected ordering a custom-made gown would have broken my budget.
"It is very costly," Davids confirms. Fortunately, "with all the different styles and fabrics that we have at David's Bridal, we can accommodate any bride. We don't do anything custom, but we can alter (the dress) so it will fit properly."
"There's not a dress here at David's Bridal that I don't think could not be altered to accommodate a bride in a wheelchair," adds Conley-Letts.
However, some brides may still feel that what comes off the rack just doesn't suit them. Having a dress "custom-made depends on the bride's size and shape. If she can't find a dress that looks good when she is sitting in the chair for any reason (weight, body shape, etc.), then custom is the way to go. Or if she is say, very full-busted and very petite, then the dresses just might overwhelm her when seated." Schwab says, adding, "My thoughts are there are so many wedding styles available that she should be able to find something off the rack if she keeps to the advice. But if a bride has her heart set on something that she can't find, custom would work."
Crawford also pointed out that two-piece gowns are rather difficult to find and might need to be custom-made, especially if the bride wants a specific style.
Keep in mind, "if you go this route, you will need to be very specific. Many fittings will also be required, and you will have to stay on top of the process," Silver says, adding, "Ask to see samples of the other dresses the designer made to make sure it fits your style."
Preparing for Dress Fittings
Once you've said "yes" to the dress, you will have to schedule fittings with a seamstress to make sure the dress is tailored to you.
"We just suggest that if there is special foundations that you have to wear under the dress, that you bring those with you or special shoes or whatever you need that we can't provide…so that you can see how the dress looks," Davids says.
Pulling the Look Together—Tips on Makeup & Jewelry
On your wedding day, you want to look like your "best self," Schwab says. "I like soft, natural looking hair—not some up-do that you have never worn before. Make-up should be soft and classic. If the trend is for sparkle shadow, wear soft neutral colors instead because in the future sparkle will look dated."
Also, "my advice for all brides is to have hair and make-up done weeks before the wedding to make sure you have the right person and feel comfortable. The wedding day is not the day to try a new hairstyle or new make-up," Schwab cautions. And "nails should be natural looking, not bright red or pattern, decorated polish. Again, (that's) too trendy."
When it comes to accessories, "I like simple jewelry, nothing trendy. I am not a fan of big headpieces, especially for a bride in a chair with an elegant, Kennedy style dress. Simple is always better," Schwab adds.
And don't forget to shop for shoes! Schwab recommends flats or pretty satin pumps.
"There are lots of flat shoes with beautiful detail," Crawford adds. "Kitten heels or ballet slippers work if you don't wear heels. You can also leave the dress long, if you prefer it covers your feet."
That aside, Crawford says, "make sure your wheelchair is clean and decorate it if you want." For her wedding ceremony, Crawford used a Quickie wheelchair covered in Swarovski crystals by designer Thom Browne and his staff. The manual wheelchair was actually decorated for another event Crawford helped to organize, but she decided to use the wheelchair again as it complimented her dress perfectly.
As a final piece of advice, Schwab says, "The bride should be comfortable and look like she wants to look—not how someone else wants her to look. It is not the time for a make-over. It's a time to be your best self! And don't try to look different; (just) try to look your best."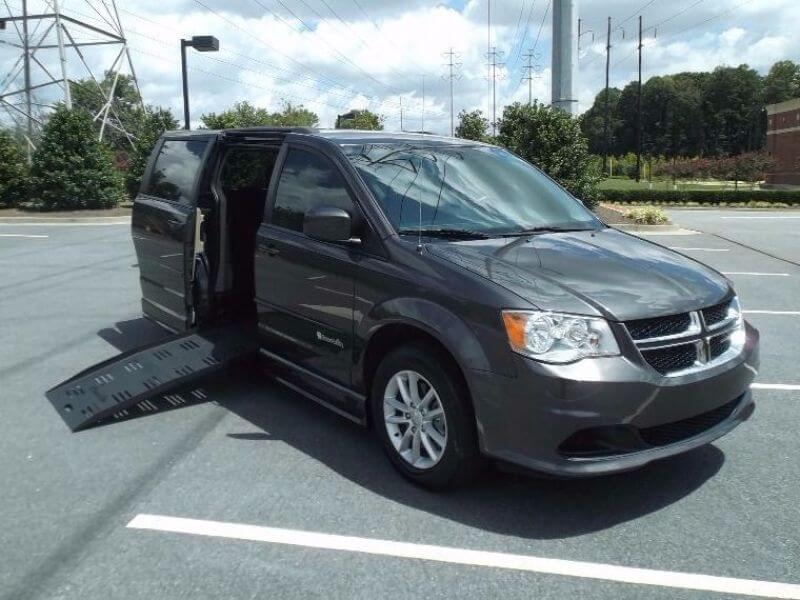 Find your perfect Wheelchair Van
Select from thousands of wheelchair vans for sale from hundreds of nationwide dealers
The Mobility Resource has one of the largest selections of Dodge, Toyota, Chrysler, Honda, Ford, Chevrolet wheelchair vans
View All Wheelchair Vans